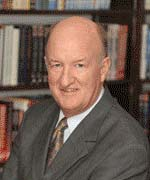 Kansas City, Mo. (PRWEB) September 01, 2011
Dr. Mark Skousen, Honorary Dean of Grantham University's Mark Skousen School of Business, a professional economist, financial advisor and author of more than 20 books, will be featured in a new book, scheduled for release later this year.
The book's editor is Adrián Ravier, a professor of economics at Francisco Marroquin University in Guatemala and the National University of La Pampa in Argentina. This will be the third volume of LA ESCUELA AUSTRIACA DESDE ADENTRO: Historias e ideas de sus pens adores (Inside The Austrian School: Histories and Ideas of its Favorite Writers).
"It's no surprise to those of us at Grantham University that someone would want to include Dr. Mark Skousen in a book like this," said Dr. Fred Snow, president of Grantham. "His career and research are thought-provoking and very relevant with all that's happening in today's world economy. We are thrilled that he is being recognized and that he continues to be a vital part of our classrooms."
To read Skousen's interview with Ravier, visit MSkousen.com.
In addition to contributing to the business school curriculum at Grantham, Skousen has taught economics and finance at Columbia Business School, Columbia University, Barnard College, Mercy College and Rollins College.
Grantham University's Mark Skousen School of Business offers a differentiated curriculum rooted in case studies and practical, real life examples, taught by business owners and leaders in today's market place. The School of Business offers associate, bachelor and master's degrees in Business Management, Business Administration, Accounting, Human Resource Management and Project Management.
For more information about Grantham University and its online degree programs, visit: http://www.grantham.edu or call 800-955-2527.
About Grantham University:
Established in 1951, Grantham University is a private institution that specializes in online education for the working adult student. Its mission is to provide accessible, affordable, professionally relevant online degrees in a continuously changing global society. Grantham University's online undergraduate and graduate degree programs include: Accounting, Business Administration, Criminal Justice, Computer Science, Engineering Technology, Health Sciences, Information Technology, Medical Coding and Billing, Nursing, Human Resource Management and Business Intelligence. Grantham University offers a military scholarship program for active duty, reserve, guard, veterans and military family members, as well as scholarships for law enforcement professionals. Grantham's courses are 100 percent online, allowing students to study at home, at work, on Temporary Duty (TDY) or from almost anywhere in the world. Accredited since 1961 by the Accrediting Commission of the Distance Education and Training Council, Grantham University has compiled a distinguished record as a respected and accredited distance learning university spanning six decades of service to education.
###