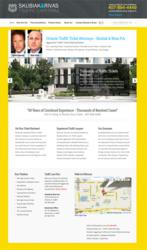 To keep pace with our client's needs, we were pleased to add Albert to our team
Orlando, FL (PRWEB) June 15, 2013
Skubiak & Rivas P.A. announces the addition of Albert Pucylowski, a high-profile Orlando attorney specializing in the defense of individuals charged with driving under the influence (DUI) and serious traffic offenses, to the Central Florida team.
"The rate of DUIs and serious traffic offenses has risen dramatically in our region," said Robert P. Skubiak, founder and senior partner of Skubiak & Rivas P.A., Traffic Law Firm. "We feel the increasing need for legal defense every day in our firm. In fact this year, searches and user engagement pertaining to DUI defense services increased on TrafficLawFirm.com. To keep pace with our client's needs, we were pleased to add Albert to our team."
DUI charges are serious and they come with severe penalties. For first-time offenders, the penalties can include 6 to 9 months of jail time; fines ranging from $500 to $2,000; license suspension from 180 days to 1 year; community service requirements; and more.
"The cost for DUIs and other serious traffic offenses only begins with the monetary fines, which could ultimately be $10,000 or more," he said. "The impact on future employment opportunities, social stigmas and personal repercussions present obstacles that cannot be calculated in a courtroom. So it's critical to do everything within the limits of the law to reduce the charges and resulting sentence because there is much at stake."
According to the State of Florida DMV, there were 55,722 DUI tickets issued in 2011 and 33,625 convictions in Florida in 2011.
Albert Pucylowski joins Skubiak & Rivas P.A. with 11 years of DUI and traffic ticket experience. Pucylowski earned a Bachelors Arts and History from Rollin's College before graduating with a Juris Doctorate from St. Mary's College of Law. He became an Assistant District Attorney in Brazoria County, Texas, and then returned to Florida to focus on DUI crimes and criminal defense.
Skubiak & Rivas P.A. offers free DUI consultations, and most cases can be handled over the phone-saving clients time and money. The firm has more than 30 years of combined experience and has resolved thousands of cases. For more information or a free consultation, visit http://www.trafficlawfirm.com or call (407) 894-4449.
About Skubiak & Rivas, P.A.
With offices in Orlando, FL, Skubiak & Rivas, P.A. serves Central Florida's criminal and traffic law defense firms. Founded by attorney Robert P. Skubiak in 1993, and partnering with attorney Alain Rivas in 1999, the practice represents clients involved in automotive and traffic-related infractions. Areas of focus include speeding tickets, red light cameras, auto accidents, reckless driving infractions, DUI charges, drug charges, tourist defense, habitual traffic offenders, suspended licenses, leaving the scene of an accident and more. For additional information, visit http://www.trafficlawfirm.com.
Partner Robert P. Skubiak founder and senior partner of Skubiak & Rivas, P.A., attorney
Skubiak graduated from the University of Michigan with a B.A. in Economics in 1989 and graduated University of Florida in 1992 with a degree in Law. In 1993 Skubiak opened his own law office in Orlando to provide clients with traffic and criminal defense.
Partner Alain Rivas graduated from Rollins College with a B.A. in Political Science and History in 1992 and graduated from Stetson College of Law in 1994. Rivas worked for the Hillsborough County Attorneys Office and as legal Counsel for Joelo Inc., Attorney Rivas has extensive experience with criminal and traffic defense and has a passion for excellent service and excels with representing all of his clients.