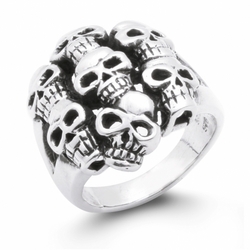 New York, NY (PRWEB) October 26, 2009
With fashion-forward sensibilities being propelled to the forefront of mainstream consciousness, a growing number of today's consumers are purchasing statement-making jewelry. No longer content with the obvious classics of the past, they are embracing a new brand of timeless style - gothic jewelry. Due primarily to Overstock Jeweler's development of their skull, bones, chains, and cross pieces, they are fast gaining buzz as the newest must-have items.
After experiencing the effects of the current economic downturn, CEO Elena Castaneda decided to change gears by steering her latest jewelry line in a new direction. Appreciating the mysticism that set gothic jewelry apart from other jewelry styles, she opted to take the opportunity to explore another side of her creative vision. "When I noticed that today's Celebrity trendsetters like Lindsay Lohan and Angelina Jolie were wearing Goth pieces by designers such as Roberto Coin for thousands of dollars I realized that there was more to this than just once-a-year Halloween jewelry," she says. Thereafter, she incorporated tasteful Designer Inspired Cross, Sterling Silver Spider, Skull Jewelry, and reptiles into Overstock Jeweler's vast collection of rings, earrings, chains, pendants and bracelets that appealed to sophisticated consumer with much success.
In addition to featuring, the enigmatic jewelry on the website is selling them for a fraction of the cost that one would pay at a sterling silver jewelry boutique. Similar pieces are being sold at high-end New York City stores like Barney's and Bergdorf Goodman. In allowing access to the gothic jewellry at an affordable rate, the online jewelry store has left its competitors behind while providing unique pieces to its frugal fashionista clientele with an additional 20% off for Halloween. As a result, this edgy, yet elegant, style is poised to become the new chic classic making this a very Happy Halloween.
Contact Information
Administrator Elena C
Overstock Jeweler
http://www.overstockjeweler.com
800-586-0020
# # #