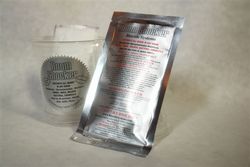 Many of our clients come to us after their pets have been the target of a skunk spray, the pet, of course, returns home and tracks the smell of skunk throughout the house
Los Angeles (PRWEB) April 13, 2009
Biocide Systems' Room Shocker is a revolutionary new product that is guaranteed to remove the strongest of odors, even those created by the toxic spray of a skunk. Consumers now have an inexpensive and foolproof way to remove the rancid smell of a skunk spray. "Many of our clients come to us after their pets have been the target of a skunk spray, the pet, of course, returns home and tracks the smell of skunk throughout the house," said J.C. Baselli the owner/partner of Biocide Systems. "We constantly receive thank you e-mails from customers amazed at how easy and affordable our product is." Margarita Carmona found Biocide Systems' Room Shocker online after her cat was directly sprayed by a skunk. "I thought the Room Shocker was a life saver. It arrived the day after I ordered it from the Biocide Systems Web site," said Carmona, a retired elementary school principal from San Diego, California. "I was shocked at how quickly it removed the skunk odor from my entire home. I live in a canyon and we have a lot of skunks around here, I have already recommended Biocide Systems' Room Shocker to my neighbors. For the price, I don't know of anything else that would have worked."
Guaranteed to disinfect and completely deodorize any room in less than 24 hours, Biocide Systems' Room Shocker is inexpensive and safe for people, pets and the environment. The Room Shocker from Biocide Systems not only removes skunk odors, it also destroys harmful pathogens like smoke and bacteria. People who suffer from allergies and respiratory problems will be relieved to know the Room Shocker also kills mold spores. Biocide Systems' Room Shocker can be purchased online at http://www.BiocideSystems.com. It is currently available in two formulas, Quick Release and 30-Day Timed Release. Both formulas are sold for less than $25 and Biocide Systems' Room Shocker is available with a 100 percent money back guarantee.
About Biocide Systems: Biocide Systems is located at 459 East 4th Street, Los Angeles, CA 90013. Biocide Systems is dedicated to creating a cleaner, safer and healthier planet for us, our children and for future generations. All Biocide Systems products are EPA (Environmental Protection Agency) approved.
Biocide Systems products include: the Room Shocker, the Auto-Vaccine and the RV and Marine Shockers. Each is available in the Quick Release and 30-Day Timed Release formulas. For more information visit our Web site http://www.BiocideSystems.com or call (877) RX_BIOCIDE. To interview J.C. Baselli, contact him directly via Email at: at jcbaselli (at) BiocideSystems (dot) com.
###