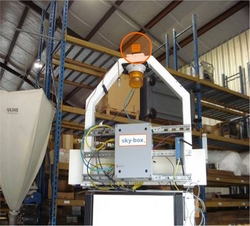 Amerden's accomplishment in retrofitting an AGV that previously used laser guidance for navigation with Sky-Trax's optical positioning sensor demonstrates the initial phase of development of the Centrally Controlled Vehicle (CCV)
Lincolnshire, IL (PRWEB) September 18, 2008
This morning, Sky-Trax Inc. announced the successful demonstration of its patent-pending Indoor Positioning Sensor (IPS) used for navigation of an Automatic Guided Vehicle (AGV). Working with Amerden AGVS at their facility in St. Augustine, FL, an automated vehicle originally designed to use a standard laser guidance system for navigation was retrofitted with the Sky-Trax indoor positioning sensor. With changes to the AGV controller software, the AGV was able to navigate freely within a warehouse, pick up a pallet from the floor, move it to a new storage location, and precisely deposit it.
"Amerden's accomplishment in retrofitting an AGV that previously used laser guidance for navigation with Sky-Trax's optical positioning sensor demonstrates the initial phase of development of the Centrally Controlled Vehicle (CCV)," says Larry Mahan, Sky-Trax President and COO.
The CCV program objective, first announced at NA08 in Cleveland in April, is to provide the missing technology for both non-automated and automated vehicles to operate safely and cooperatively within the same space using the same navigation technology. Additional developments of the CCV system to be demonstrated in the future include collision avoidance capabilities and vehicle fleet routing software to optimize and safely operate a fleet consisting of both traditional driven lift trucks and automated vehicles.
"Only software modifications to the standard CB40 AGVE controller software were required," said Roland Anderson, Amerden AGVS President, the end results open the door to many exciting possibilities for vehicles, operating environments, and specialized adaptations. We look forward to working with Sky-Trax in improving the safety and warehousing efficiencies and decreasing costs in logistics and material handling for our customers."
The AGV retrofitted with the Sky-Trax System uses an optical sensor and ceiling mounted Optical Positioning Markers (OPMs) to navigate freely within the warehouse space. The technology determines the AGV's position and orientation several times each second. The Sky-Trax System provides accurate location coordinates direction, speed, and data compatibility with the AGV controller to enable direct replacement of a laser sensor. "The Sky-Trax System will work in virtually any building or indoor environment, is easy to install, and can provide a cost-effective alternative for AGV guidance," according to Mahan.
About Sky-Trax, Inc.
Sky-Trax develops revolutionary automatic data collection and inch-accurate location tracking systems for warehouse vehicles. Safety and productivity applications employing Sky-Trax's IPS technology are economical and practical to deploy, allowing warehouse professionals to substantially increase safety and improve warehouse efficiency. The results are fewer safety violation incidents, lower operating costs, improved inventory accuracy and greater throughput. For more information, please visit http://www.sky-trax.com
About Amerden AGV, Inc.
Amerden, based in St. Augustine, Florida, provides functional, reliable and cost effective Automatic Guided Vehicle Systems. Specializing in new AGV systems as well as replacing, retrofitting, or refurbishing older AGV Systems. Amerden is the North American representative for AGV Electronics AB, AGVE, in Sweden and provides AGVE parts and factory-trained repair service as well as software and hardware upgrades on a wide array of AGV systems. Purchasers of Amerden AGV vehicles include manufacturing and service industries, such as automotive, warehousing, and newspapers. For more information, please visit http://www.Amerden.com
# # #