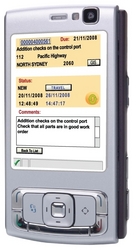 We feel that whilst we already have Windows and BlackBerry capability, the large Symbian presence in Europe and Asia have no truely integrated solution for SAP® mobility. This offering helps bridge that gap and gives customers more choice with device selection and their existing mobile fleets
Nice, France (PRWEB) February 10, 2009
Australian company Sky Technologies, leaders in SAP® mobility solutions, has released its SkyMobile Smart Client for the Symbian Operating System (Series 60 3rd Edition FP1+).
The software will be officially launched at the SAP® Logistics & Supply Chain Management event in Nice, France. This coincides with Release 18 of the Sky Technologies software suite that incorporates the support of the Symbian platform.
This enables SAP® users to effectively deploy mobile solutions such as proof of delivery, field service and business workflow solutions onto a wide range of Symbian based handsets. This is primarily targeted at the Nokia smartphone market and is designed to be a pre-cursor to the new Symbian open platform. This new capability fully compliments existing smart clients for the Windows and BlackBerry platforms, with iPhone and Android solutions already in the pipeline and expected to be released mid 2009.
"We have listened to our customer base and fully realise the need for a single mobility framework that covers a variety of devices and operating systems. We are very excited to add Symbian support to the SkyMobile framework. This will help open up SAP® mobility to a whole new spectrum of mobile users," commented Stephen Ware, CTO, Sky Technologies.
"We feel that whilst we already have Windows and BlackBerry capability, the large Symbian presence in Europe and Asia have no truely integrated solution for SAP® mobility. This offering helps bridge that gap and gives customers more choice with device selection and their existing mobile fleets," he concluded.
About Sky Technologies:
Sky Technologies specialises in Enterprise Mobility, Point of Sale and Integration for SAP®. With a strong focus on innovation, Sky Technologies has developed a SAP® certified technology platform to deliver middleware free mobility (SkyMobile), low cost integration (SkyConnect) and fully functional point of sale (SkyPOS) solutions that are embedded within SAP®. Sky Technologies has a client base that spans 6 continents and 23 countries and continues to deliver solutions to SAP® customers which reduce costs, create customer value, empower users and enable a greater return from your investment in SAP®.
For more information, please visit us at http://www.skytechnologies.com.
Contact:
Stephen Ware, CTO
Sky Technologies
stephen.ware (at) skytechnologies (dot) com
+61 3 9558 6088
###