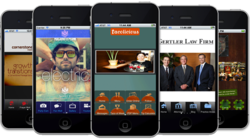 Mobile Apps For Business Made Easy. The Fast & easy way for small businesses to create Mobile Apps!
Los Angeles, California (PRWEB) July 10, 2012
After almost a year in development, a brand new app builder has just hit town today and it's expected to become even bigger news in the years to come. The name of the program is Sky Builder and it's expected to set the standard to beat by revolutionizing the way today's modern internet entrepreneur develops, expedites, and distributes mobile phone apps.
People can see the demo of Greg Jacobs building an app by visiting the official site here.
SkyBuilder represents a new shift in the way of doing business on the internet... A Mobile Shift. Statistics show that over 50 percent of adults in the USA are using smartphones (iphones, androids) and each one of these people has an average of 18 Apps installed.
In fact Apps are an over 45 billion dollar industry. And to top that off, this industry is mostly powered by small home based businesses by one or two people.
As mobile phones and SmartPhones have become bigger and bigger parts of how we all live our lives, especially in regards to our business and professional presences, the importance of useful, innovative mobile apps has become more and more important. These days, one of the first things a new interface user or potential client will look for in regards to your business or e-service is a corresponding mobile app, so the ability to create one that delivers has become more critical than ever. However, one of the biggest obstacles for many business owners moving forward was a lack of ability and manpower to produce efficient apps as quickly as desired.
Sky Builder was created by a top-notch dream team of crack experts at professional software development to address the main issues facing app development today. It allows users to build stellar apps in mere minutes. It was also designed to be extremely user-friendly for app builders of all skill levels – simple enough for complete newbies, but advanced enough for seasoned app builders to boot. Plus, SkyBuilder brings the following capabilities to the table:

Users are granted the ability to create an unlimited number of niche apps, allowing them to leverage the power of the numbers game and make quite a bit of money in the process.
Apps can be created in less than 12 minutes, something that was previously unheard of, even in regards to the most popular app builders on the market.
Users also have the choice between using their own content in the building of their app or pulling existing content from the web.
As if all that's not enough, SkyBuilder is expected to continue to grow and offer users even more as the development team behind it keeps on working on improvements as well. SkyBuilder is now available to app builders and entrepreneurs everywhere. Visit http://www.skyappbuilder.com/appmachine for more information.
For those that are considering buying the Sky Builder program should check out Sky Builder as soon as possible because there are three incredible fast-action bonuses that will be gone before you know it. http://www.SkyAppBuilder.com/sky-builder-bonus