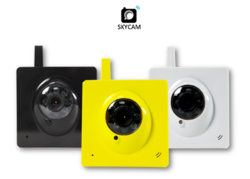 Plus, by being the only IP camera that operates through Skype, SKYCAM is in a league of its own.
Los Angeles, CA (PRWEB) May 20, 2013
With busy schedules, people heavily rely on their phones, tablets, and computers to keep them connected to what is going on in the world. However, there is one place that people often forget about staying linked to – their homes. Even though everyone is constantly checking for the latest emails, text messages, Facebook statuses, or Tweets, keeping tabs on home security isn't a standard practice. Without a convenient method to remotely monitor in real-time, home surveillance is a blind spot in everyone's digital lives.
That is what emerging wireless video camera, SKYCAM, hopes to change. Utilizing popular VOIP platform, Skype, instead of a DNS server, SKYCAM allows users to access their video stream straight from their phone, tablet, or computer. This offers owners an easy, convenient, and hassle-free way for remotely monitoring home activity. By simply opening up the Skype app while at work, out to dinner, or traveling, users are instantly connected to their home life in real-time. Whether using this wireless video camera to check in with a babysitter, keep an eye on pets, or for overall home surveillance, SKYCAM gets rid of our digital blind spot.
On top of allowing owners to remotely access their video stream straight from the Skype app on their device, there are many other aspects that make SKYCAM stand out from other IP cameras. SKYCAM's main distinguishing factor is that it's the only IP camera that uses Skype, rather than a DNS server, for owners to monitor their homes. This allows SKYCAM to cut out the complicated DNS configuration, continuous fees, and insecure servers that belong to other wireless video cameras. After an easy 4 step installation process, owners simply need to set up their standalone camera in their desired location and start instantly recording video. This hassle-free set up includes SKYCAM's additional features such as night vision, two-way voice communication, and more. Not only does SKYCAM offer a high-quality simple solution for remote access to home surveillance, it is also cost-efficient.
"SKYCAM takes some of the best aspects of other IP cameras on the market," says founder Roger Yiu. "Then combines them into one affordable high-quality real-time simple solution. Plus, by being the only IP camera that operates through Skype, SKYCAM is in a league of its own."
By pledging $95 on the Indiegogo page, funders can have their very own SKYCAM. With just nine days remaining on Indiegogo, SKYCAM needs the help of the crowdfunding community to make their campaign a success. To learn more information, or purchase SKYCAM, visit their Indiegogo page http://igg.me/at/skycam. Help spread the word by liking the SKYCAM Facebook page and connecting with them on Twitter @mySKYCAM.
About SKYCAM
SKYCAM is the first IP camera that uses popular video conferencing platform, Skype, as its DNS server. This revolutionary wireless video camera for the next generation was created by founder Roger Yiu, who graduated with a degree in Economics and Electrical Engineering from the University of California, San Diego (Jacob School of Engineering). He has past experience in product development and working on consumer electronics, and enjoys developing innovative smart products and Internet devices. To learn more about SKYCAM, head to the Indiegogo page http://igg.me/at/skycam, and be sure to connect on Facebook and Twitter @mySKYCAM.