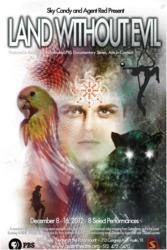 "Sky Candy is visually spectacular and Matthew's story is gonna be an amazing journey for both the performers and the audience. Can't wait to see it." - 2012 
Emmy-Winning PBS Producer of "Arts In Context", Mario Troncoso
Austin, TX (PRWEB) November 29, 2012
Agent Red and Sky Candy Austin's "Land Without Evil," the world-premiere stage adaptation of Matthew J Pallamary's novel, winner of a San Diego Book Award, opens on December 8th, 2012 in downtown Austin, TX. The show is a collaboration between nearly 50 acrobatic athletes and artists (aerialists, singers, firedancers, actors, musicians, video projectionists, dancers among others) hailing from Austin and beyond, including Agent Red, Sky Candy, Pallamary, SORNE, and Datagrama.
The journey from page to stage has been long, with the show's roots grounded in the real-life experiences of key collaborators. Pallamary and co-director Agent Red both found convergent healing paths, inspired by spiritual practices from South America.
Pallamary, originally from poverty-stricken Dorchester, MA, survived his violent upbringing in the "concrete jungle" of Boston, finding inspiration in his research into shamanism and ancient cultures; particularly in the visionary healing plants and traditions of the Peruvian Amazon as well as the mountains and deserts of North, Central, and South America.
After learning about the heart-rending and moving story of the Guarani tribe of Paraguay, Pallamary was inspired to write about their tribal epic journey in his historical novel "Land Without Evil."
His video slide show featuring the Guarani, is now with Survival International, which protects the lives, lands and human rights of tribal people.
A decade after "Land Without Evil" was published, a tragic accident struck Agent Red, a world-class aerialist, when she fell from her apparatus on New Years Eve in front of 7,000 people.
Barely surviving the accident, Red suffered a fractured skull and shattered wrists, was infused with three titanium plates in her head and 36 pins in her arms along with crippling medical bills, the loss of normal use of her wrists, all of which ended her career as an aerialist.
Red sank into depression, eventually suffering from PTSD. After many remedies failed, she turned to ancient South American healing practices, which brought her out of her depression, and bringing new hope and creative inspiration.
After reading "Land Without Evil", Red contacted Pallamary and Chelsea Laumen, founding member and artistic director of the aerial arts collective Sky Candy, about collaborating on a full-length pan cultural, aerial-theater stage show. Chelsea also suffered from PTSD from an assault after an aerialist showcase, which found her unable to work and soon homeless. Chelsea founding Sky Candy and Agent Red finding "Land Without Evil" would be the comebacks they both deserved.
Enter 2012 Emmy-winning PBS producer Mario Troncoso, who approached Sky Candy to feature them on an episode of "Arts in Context", the 2012 Emmy winning series about collaboration in the arts. Troncoso is filming the making and production of "Land Without Evil" for the PBS episode, set to air nationwide in January of 2013.
The shamanic healing practices the Guarani died fighting to protect in 1758, brought triumph to tragedy to these present day artists, who will now revive a dying culture on center-stage in December 2012; a time many believe is the age of new beginnings.
That's the synchronicity of true collaboration. From Paraguay to Publication to Paramount to PBS. It appears as if greater acts are at play here. Perhaps the Guarani were right; perhaps there is a Land Without Evil.
The Sky Candy Collaborators are available for interviews and Pallamary will be signing copies of his books; "Land Without Evil", "The Small Dark Room of the Soul", "Spirit Matters", plus his new book, "The Infinity Zone" at the shows, donating 10% of his sales to Sky Candy.
The "Land Without Evil" production will play at the Stateside Theatre at the historic Paramount in downtown Austin from Dec 8-16, 2012. For tickets, please visit austintheatre.org or call (512) 472-5470.
Founded in 2010, Sky Candy is a non-profit, aerial arts collective whose mission is to develop and foster interest for the aerial arts in Austin, Texas. Visit skycandyaustin.com.
Matthew J. Pallamary's historical novel "Land Without Evil," inspired by a true story, received a "Bravo! More!" from Ray Bradbury. For more about Matthew Pallamary, visit mattpallamary.com.