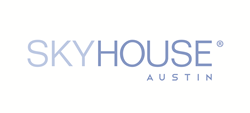 Austin, TX (PRWEB) March 20, 2014
Simpson Housing Group®, LP and joint venture partner, Novare Group are set to celebrate the opening of SKYHOUSE AUSTIN with a "Taste of Rainey Street" rooftop event from 6 to 9 p.m. on Thursday, March 27th that will showcase the luxury apartment community's panoramic views from 51 Rainey Street in downtown Austin. Guests of the by-invitation event will enjoy food from favorite local restaurants to include No Va Kitchen & Bar and Royal Blue Grocer, sip hand-crafted cocktails by Deep Eddy Vodka and enjoy local, live music by the legendary Dale Watson. Guests at the event will have the opportunity to sign up for private tours of the luxurious model apartment.
Conveniently located in the heart of downtown Austin, SkyHouse Austin is just steps away from markets, shops and restaurants – a true cafe' lifestyle from the moment you step outside the gleaming, contemporary tower. On-property retailers include neighborhood grocer, Royal Blue Grocery; Salvation Pizza with their famous New Haven style pies; and Blossom Spa Boutique, with its relaxing, eco-friendly spa experiences.
Residents of SkyHouse Austin can choose from studio, one, two or three bedroom floor plans – all with breathtaking views of Lady Bird Lake and downtown Austin. Lounge poolside at the sun-drenched rooftop amenity deck with free Wi-Fi, entertain in the spacious clubroom with pool table and large-screen TV's, or stay healthy at the state of the art fitness center. SkyHouse Austin also features an elegant lobby with concierge services, an open-air terrace with fireplaces and grills and separate fitness rooms for yoga and spinning.
SkyHouse Austin apartments offer the best in luxury apartment design with contemporary lighting fixtures, floor-to-ceiling windows with dramatic views, generous closet space, hardwood flooring throughout, modern open spaces with 9' ceilings, premium granite countertops in kitchens and bath and private balconies with expansive views. For more information, please visit the SkyHouse Austin website.
About Novare Group
Novare Group is a real estate development and investment company headquartered in Atlanta, Georgia consisting of several investment and operating companies, including Novare Group Holdings, LLC, NGI Investments, LLC, Novare Events, LLC, HomeOwners Advantage, LLC, and TWELVE Hotels and Residences, LLC. Since 1995, Novare Group has developed over 7,000 high-rise residences in 24 buildings around the Southeastern United States. Learn more by visiting http://www.novaregroup.com.
About Simpson Housing Group LP
Simpson Housing is a national, fully-integrated real estate development and portfolio management firm primarily focused on the multifamily market. Simpson builds and operates high-quality, residential communities throughout the United States. As one of the largest privately held residential developers and managers in the nation, it is organized to deliver a comprehensive range of real estate services – including development, property management, construction, acquisition, marketing, and financing. Visit http://www.simpsonhousing.com for more information.