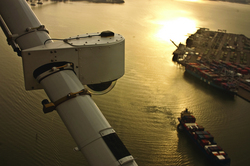 With its sophisticated features and ease of use, SkyFusion Pak is a breakthrough in value and performance.
San Carlos, CA (PRWEB) April 28, 2010
SkyIMD, Inc., the innovators in aerial imaging and intelligence solutions, will present the SkyFusion Pak system in Booth 605 at the Border Security Expo that opens today in Phoenix, Arizona.
SkyFusion Pak is the most cost-effective and advanced turnkey solution for real-time aerial intelligence. SkyFusion Pak meets the needs of mission-critical and technically-demanding applications including border patrol, law enforcement, crises management and mobilization, and search and rescue.
Key features of SkyFusion Pak include:

Installs in less than two hours
STC-certified
Real-time image and video streaming via satellite or 3G network
Automated analytics/reporting providing telemetry and geo-spatial data with 3D map overlays
"SkyFusion Pak is a breakthrough in value, usability, versatility and functionality," said Michael Estigoy, Product Manager of SkyIMD. "We've combined ease of use with sophisticated features usually reserved for more expensive solutions. SkyFusion Pak makes advanced aerial imaging and intelligence features affordable for all operators."
Small, lightweight and portable, SkyFusion Pak can be deployed quickly and installed easily in the field on multiple aerial platforms. The system can be configured with optional components, such as still and infrared cameras, to meet the needs of different applications.
SkyFusion Pak is priced at $59,900 and includes a self-contained pod with an application specific video camera and motorized control that is ready to be mounted on wing strut or under belly. It also includes a flight control laptop computer that is customized and pre-configured with comprehensive management and control software.
About SkyIMD, Inc.
SkyIMD is a provider of innovative solutions for aerial intelligence. The company is committed to providing advanced solutions that are affordable and easy to deploy and operate. SkyFusion Pak is the company's advanced cost-effective turnkey solution for aerial intelligence. Learn more at http://www.SkyIMD.com .
###