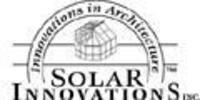 tempered over two lites of 3/16
Myerstown, PA (PRWEB) June 5, 2009
Solar Innovations, Inc., a custom manufacturer of residential and commercial conservatories; greenhouses; sunrooms; folding, tilting, and sliding glass doors, walls, windows, and screens; announces the completion of Florida Impact Testing on two skylight options.
Tested to Wind Load 4-Missile Level D, Solar Innovations'® curb mounted "pyramid" skylight is certified to a design pressure of ±65psf. The tested product was a straight eave, double pitch, hip end skylight measuring 147.75&#733; in length, 99.25&#733; in width, and has a 57.5&#733; ridge height. This structure is also approved in six different styles including four-sided pyramid; single slope lean-to; octagon; straight eave, hip end; single slope; straight eave, double hip end; and straight eave, double pitch. This unit was glazed with a one inch glass make-up of one lite of 3/16&#733; tempered over two lites of 1/8&#733; annealed with a .090 SGP interlayer, the glass also incorporates stainless steel spacer technology. This product is certified for a <.01 cfm/ft2 air infiltration rating as well as a 12.0psf water infiltration rating with no leakage.
The second of the tested skylights is a fixed, single slope, thermally enhanced, curb mounted skylight measuring 50˝ wide and 100˝ long. This impressive specimen allows Solar Innovations, Inc. to ensure that any of the same style skylight which is smaller than the tested specimen will meet HC-65 requirements as well as a design pressure of ±65psf. The skylight has an air infiltration level of .04 cfm/ft2 and was tested to a water infiltration of 12.0psf which yielded no leakage. This unit was tested with a one inch glass make-up of one lite of 3/16" tempered over two lites of 3/16" annealed with a .090 SGP interlayer.
When impact certification is not a requirement, Solar Innovations'® skylights can incorporate numerous glazing options, as well as polycarbonate, and are available in finishes ranging from paint, to anodized, to copper cladding, simulated lead coated copper cladding, stainless steel cladding.
Skylight interiors are available in solid wood or wood laminates. Solid wood options include Mahogany or Spanish Cedar, additional laminates include Western Red Cedar, Southern Yellow Pine, and Northern White Pine (straight eave applications only), and Douglas Fir. Redwood and Cherry may be integrated into the customers skylight depending on final engineering requirements. In addition, depending upon structure design, a skylight by Solar Innovations® can incorporate many of their decorative elements that are typical of greenhouses and conservatories.
"All of Solar Innovations® skylights are pre-manufactured to ensure proper fit and finish when they arrive at the job site." Depending upon delivery requirements, application, and unit size, Solar Innovations® can deliver their skylights in one of three different ways. KD, knocked down, is utilized for larger skylights when they must arrive in several pieces to ensure jobsite efficiency. Pre-Assembled, but not Pre-Glazed skylights can be used to decrease installation time and the number of crew members necessary to complete it. The final option, Pre-Assembled, Pre-Glazed skylights, arrive on flat beds or trailers fully assembled and glazed to minimize the overall installation time, decreasing the installation time from days to hours.
Both of Solar Innovations® recently tested units passed these rigorous tests on the first attempt with no failures. For more information on Solar Innovations, Inc.'s Florida Approved Products, or their newly approved skylights, please contact the marketing department at skylight@solarinnovations.com or call 800-618-0669.
# # #