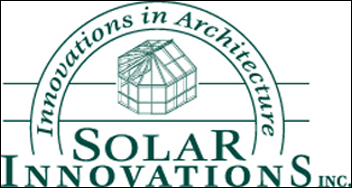 Myerstown, PA (PRWEB) June 19, 2007
Solar Innovations, a custom manufacturer of sloped glazing products, announces unique, maintenance free skylights. This maintenance free aluminum exterior together with decorative wood interior options is not offered by any other skylight manufacturer. From a simple double pitch or flat skylight to a segmented barrel vault or true radius dome skylight, Solar Innovations creates a limitless range of customized maintenance free skylight alternatives.
Solar Innovations offers skylights in a 7" wood system. "These systems are maintenance free aluminum on the exterior with either a solid wood or wood laminate interior". Standard wood options include solid mahogany and Southern Yellow Pine laminate. Upon special request, laminates of Western Red Cedar, Spanish Cedar (straight eave applications only), and Douglas Fir are also available. Solar Innovations' advanced aluminum weep control system carries water and condensation away from the wood, ensuring the safety of the interior wood application. The potential of Solar Innovations' wood interior systems is limitless, with the addition of decorative trim and other accessories. Solar Innovations will prepare the wood surfaces for final finishing with a protective water based sealer that minimizes damage and discoloration during delivery and installation. Final sanding and finishing is to be completed by the purchaser. It is the customer's responsibility to properly maintain the finish on the wood to preserve the warranty of the skylight. Solar Innovations does not recommend using the decorative wood interior option for skylights installed in high humidity environments, especially rooms that are used in pool and spa or greenhouse applications.
An expert in skylight design, Solar Innovations will work with you or, if you choose, your architect, contractor, or dealer to help you create the perfect maintenance free skylight to meet your needs. Solar Innovations will match glass panels, size, roof pitch, colors and accessories to create a unique focal point or to seamlessly blend into the surrounding architecture. Solar Innovations applies the same high standards and strict structural requirements in our residential products as we do in our high-end commercial systems. The systems may not always have the lowest initial cost, but the products are superior in quality, saving costly repairs and replacements in the future.
Solar Innovations, based in Myerstown, PA, is a custom manufacturer of aluminum glazed structures. For more information on Solar Innovations' product line, including skylights, conservatories, greenhouses, sunrooms, folding glass walls, sliding doors and windows, and much more, contact Solar at (800) 618-0669.
###