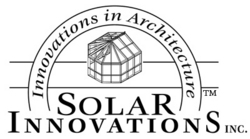 Solar Innovations, Inc. has created yet another customization option
Myerstown, PA (PRWEB) March 17, 2008
Solar Innovations, Inc., a custom manufacturer of residential and commercial skylights, greenhouses, conservatories, sunrooms, folding and sliding glass doors, walls, windows, and screens, announces three assembly and delivery options to meet the needs of our customers.
For each of the standard skylights options, Solar Innovations, Inc. is now able to provide customers with choices for delivery and installation, dependent on engineering requirements, which can greatly alleviate the installation burden for customers and minimize the time necessary for an installation crew to be on site.
By offering customers several different delivery and assembly options, "Solar Innovations, Inc. has created yet another customization option" for our end users to further meet their specific needs.
Solar Innovations, Inc. offers three skylight delivery and assembly options.
1. KD skylights, or knock down skylights, have virtually no design size limitation. These skylights are shipped with each part premanufactured, wrapped, and labeled. Each piece is prepared with applied clips, gaskets, and tape for ease of assembly and cost effective installation, but will require the greatest amount of time from the installation crew.
2. Preassembled, not preglazed skylights feature welded curbs and a preassembled frame which can be lifted or hoisted into place for water tight and secure curb details. Installation time is reduced to install glass, exterior caps, and fasteners, and finishing the exterior seal. Preassembled, not preglazed roof lanterns require less expertise and time to install than the KD model.
3. Preassembled, preglazed skylights can be shipped up to eight foot by fifteen foot lanterns depending on the configuration, accessories, shipping, and installation logistics. (Larger and modular sizes are available based on job specific criteria.) The skylight is shipped as complete as possible, requiring a crane to hoist or lift the skylight into place. Once in place, only the fasteners thru the curb are required for the installation to be completed. This option provides the ultimate manufacturing control and, with the exception of the crane, the greatest ease in installation.
Solar Innovations, Inc. skylights are available in numerous styles including double pitch, single slope, dome, barrel vault, hip end, pyramid, conservatory nose, and many other custom applications. As always, Solar Innovations, Inc. is able to provide their customers with one of the largest customization ranges in the industry. Solar Innovations offers its customers eight standard skylight options as well as any custom structure. Seven standard painted colors, two Anodized finishes, and several custom cladding options of Copper, Brushed Stainless Steel, and simulated Lead Coated Copper are available. Decorative options such as ridge cresting, finials, and moldings can be incorporated into skylights. Solar Innovations, Inc. offers glass, polycarbonate, and acrylic glazing options in several tints to satisfy numerous aesthetic pallets.
For more information on Solar Innovations, Inc.'s products or their delivery options please contact the marketing department at skylight @ solarinnovations.com or call 800-618-0669.
###