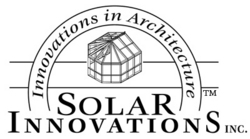 Myerstown, PA (PRWEB) May 5, 2008
Solar Innovations, Inc., a custom manufacturer of residential and commercial skylights, greenhouses, conservatories, sunrooms, folding and sliding glass doors, walls, windows, and screens, provides options for daylighting and ventilation in high moisture areas. A leader in skylight design, Solar provides suggestions for ventilation incorporating ridge vents, eave vents, operable skylights, and retractable roofs.
Ridge vents are located in the peak of a roof. A typical vent (measuring 27 inches on the diagonal) allows for ample ventilation by opening four to nine inches and allowing hot air to naturally escape from the structure, typically three to twenty four feet in length. Working in conjunction with the ridge vents, eave vents allow cool air to enter the room. These vents are located at the eave or base of the roof. The integration of these two types of vents creates circular air flow; intake low and exhaust high is a natural ventilation principle.
Beyond standard ventilation options, Solar Innovations, Inc. offers large operable skylights which are available to a maximum panel size of four foot by six foot depending on the application. Protruding approximately four to five inches above the roof plane or skylight curb, operable skylights can be linked in succession and can operate manually or by a motor as per the customers needs. Rain sensors and remote control options including thermostats can also be integrated into the skylight system.
Finally, retractable roof panels or retractable skylights provide the largest amount of ventilation with a maximum panel size of nine foot by nine foot. Solar Innovations, Inc. has the technology to link numerous panels to one another to open the entire ridge line of the structure. Rain and wind sensors including remote controls and thermostats are available to consumers making skylights a more practicable choice.
As with any new structural element, proper planning will smooth the process.
Customers should consider:

Special care must be taken in high humidity, moisture, and chemical atmospheres.
Air intake is important for any ventilation to work properly.
Air pressure must be positive within the room or ventilation will not properly function.
Laminated glazing filters our ultraviolet rays and can prevent most premature fading from continuous exposure to sunlight.
Screen options are available to limit insects and debris from entering the structure.
For best results, operable features should be utilized in a minimum of 2/12 or 3/12 pitched roof application. Integrating any of these operable features into your glazed structure or home can be completed with ease.
Proper ventilation in structures and exposure to sunlight are both critical to good health in today's world. The benefits of Vitamin D, cultivated through exposure to the sun have been documented to improve mood, health, and much more. For more information on Solar Innovations' skylights please contact the marketing department at skylight(at)solarinnovations.com or call 800-618-0669.
###