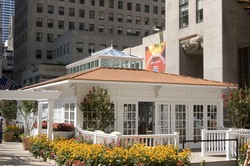 Chicago, IL (PRWEB) August 19, 2008
EnglishSkylights.com, a division of Town & Country Conservatories (http://www.townandcountryus.com), a leading design-builder of authentic English conservatories, pool enclosures and garden houses, was recently invited to design and build a custom English Skylight for Rockefeller Center's annual Flower & Garden Show.
Town & Country's inclusion in the Flower & Garden Show seemed a natural fit, as their conservatories and English Skylights offer a unique way to incorporate the beauty of nature and light into an indoor setting so that it can be enjoyed year-round. The exhibit is currently on display and has been extended into late August.
For more information visit EnglishSkylights.com
About Town & Country:
Town & Country Conservatories' offices are located in Chicago and London. Together, Town & Country UK and U.S. have completed over 1000 projects, including Conservatories, Orangeries, Garden Houses and Skylights in locations as far-reaching as Portland, Oregon to Bolzano, Italy. The company prizes its reputation for design and manufacturing excellence, as well as its tradition of close personal service.
James Licata, President
Town & Country Conservatories
(773) 506-8000
TownandCountryUS.com
EnglishSkylights.com
###