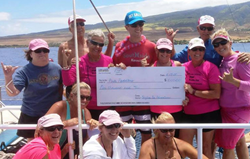 MAHALO NUI LOA to Skyline Eco Adventures for selecting Mana'olana Pink Paddlers as your non -profit recipient for Trilogy Excursions May17, 2015 Blue Aina Clean Up. We are so appreciative and honored! The Pinks - Mana'olana Maui
Maui, Hawaii (PRWEB) May 19, 2015
Skyline Eco-Adventures, Hawaii's award-winning zipline company and operator of the first zipline course in the United States, partnered with Trilogy, Cool Cat Cafe and Mana'olana Pink Paddlers to support Trilogy's Blue'Aina campaign. 54 volunteers joined in to participate in a reef clean up on Black Rock near the Ka'anapali, Maui resort area. As the corporate sponsor for the day's event, Skyline Eco-Adventure's President, Danny Boren presented a $1000 check to the Mana'olana Pink Paddlers of Maui in support of the non-profit's work with cancer survivors. The day's event was catered by Cool Cat Café on Maui and crewed by Trilogy Sailing.
Mana'olana Pink Paddlers are a nonprofit organization committed to enhancing the lives of those stricken by cancer by introducing them to the Hawaiian sport of outrigger canoeing. Mana'olana Pink Paddlers prove, by example, that there is life after cancer by encouraging physical exercise to build strength, confidence, and friendships. They offer a unique service that deeply touches the heart of anyone who paddles or rides with them. Mana'olana's Mission is to help survivors regain health and strength after cancer. Visit http://www.manaolanapinkpaddlersmaui.org/
Trilogy's Blue`Aina objective is to clean up and maintain Maui's reefs, educate the community, and raise money for non-profits. Trilogy & The Surfrider Foundation are committed to cleaning 12 reefs in 12 months. Together, their efforts target reefs in distress between Maui's South side and West side, along with an annual event on Lana'i. Visit http://www.sailtrilogy.com/helpmaui
Skyline Eco-Adventures was recently named the No. 1 Zipline Company; No. 1 Zipline Course; and No. 1 Land Activity/Adventure Tour Company in HAWAI'I Magazine's second-annual 2015 Reader's Choice Awards and a 2015 Best Places to Work in Hawaii by Hawaii Business magazine.
Skyline Eco-Adventures is a leading commercial zipline company that thrills more than 70,000 guests annually with "knock-your-socks-off" experiences. As the first commercial zipline operator in the United States, Skyline also specializes in the comprehensive design, development and operation of world-class zipline adventures. Skyline operates two Maui zipline tours at Ka'anapali and Haleakala, in addition to the Akaka Falls Skyline Adventure on Hawaii Island, and the Poipu Skyline Adventure on Kauai. Call (888) TO-GO-ZIP or visit http://www.zipline.com.