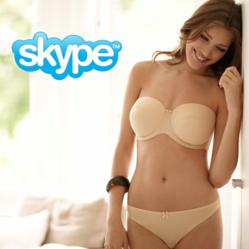 Skype Fittings can bring the right bras to more women no matter where they live.
Vancouver, BC (PRWEB) November 16, 2011
Women looking for their perfect bra may not have to travel any further than their bedroom thanks to Skype Bra Fittings from Butterfly Collection Lingerie. For millions of women in North America the problem with wearing the right bra is finding it. Most stores don't sell bras over a D cup and those that do can be expensive and inaccessible.
Former technology writer Claire Dumican decided to combine her tech knowledge and bra passion to bring the expertise of a professional bra-fitting to any home, anywhere. Dumican's boutique specializes in bras for D-K cup women, a group who have a particularly difficult time finding bras. She says "Skype gives our customers a personal and convenient experience. Our fitters can see and discuss the customer's needs in total privacy."
The free Skype Fitting includes a step by step measurement guided by the fitter, an appraisal of the customer's current lingerie to understand which styles suit them and why as well as talking about what kind of bras the customer needs to suit their lifestyle. "For busty women bras are an essential item so they need to withstand the demands of a busy life as well as look and feel gorgeous." says Dumican.
Buying lingerie online has been around for a while but many women miss the personal touch of an in-store fitting, this is a step towards bridging that gap. Butterfly Collection book most of their fittings through their website and have fitters Skyping appointments 6 days a week all over North America.
Dumican says she hopes to reduce the number of women wearing the wrong bra and give them selection at the same time. "Women are tired of being told that they're in the wrong bra when so few stores carry their size. These fittings can bring the right bras to more women no matter where they live. Technology is helping us make bra shopping fun again for busty women!"
Company Information: Butterfly Collection Lingerie is a Canadian based online lingerie boutique specializing in D-K cup bras.
###