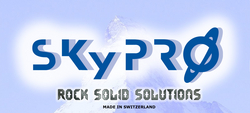 Our organization has 270 employees and fax is very important for us
Cham, Switzerland (PRWEB) March 25, 2009
SKyPRO™ AG has completed the acquisition of the FaxGWise product from Vivex GmbH, including all rights to sell, enhance, and support the product.
FaxGWise integrates with Novell GroupWise to provide an optimized solution for sending, receiving, and managing faxes. It has been available released in 2002 and is now at Version 4.
FaxGWise supports common document formats and allows a fax to be created and sent from any Windows® application. FaxGWise also supports fax templates, automatic routing, archiving, and other functions that improve employee efficiency and reduce costs for companies.
"This acquisition helps us to build our vision of Unified Communications for the GroupWise platform, which started with the January, 2009 announcement for SKyCOM ," said Horst Fuhrmann, President of SKyPRO.
Fuhrmann also said, "Our immediate goal is to continue sales and provide support for all current FaxGWise customers. We will fix bugs and add features requested by customers. In the future, we will integrate features from FaxGWise into SkyCOM."
"Fax is still a very important part of the operation for many companies, and FaxGWise is a true business solution. We congratulate SKyPRO for their vision and are very pleased to be their exclusive distributor for FaxGWise in Germany, Austria, and Switzerland, said Marco Mikulits, Managing Director, Inetra, GmbH. Mikulits also said that he has just received orders for FaxGWise from three new customers
"Our organization has 270 employees and fax is very important for us," said Pierre Reckinger, head of IT for Munich-based Hanns-Seidel-Stiftung e.V. "We network with political and humanitarian organizations all over the globe, including emerging markets and third world countries. We have been a FaxGWise customer since 2005. We are very pleased that SkyPRO has acquired this product and is committed to adding new features."
Pricing starts at € 990 (for 10 User/1 Port)
SKyPRO plans the release of a US version later this year.
About SKyPRO
SKyPRO is a 21 year old Swiss firm based in Cham, near Zurich, that provides custom programming and large scale system integration in the areas of Novell applications and Identity Management. In January, SKyPRO launched its first commercial product, SKyCOM, a VoIP client tightly integrated with Novell GroupWise.
Contact: Horst Furhmann
Phone: +41 (0) 41 741 4770
SKyPRO and SKyCOM are trademarks of SKyPRO AG.
Novell and GroupWise are registered trademarks of Novell, Inc., in the United States and other countries.
# # #