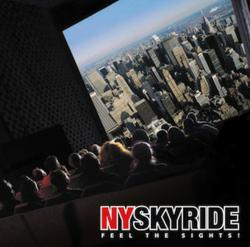 "We're excited to offer the discounted admission rate to tour groups traveling to New York City!"
New York, NY (PRWEB) January 11, 2012
NY SKYRIDE, New York's only virtual tour simulator, is please to announce admission discounts for groups and student groups. Schools, camps and groups can get the special discount when booking direct through their reservations department.
"The NY SKYRIDE experience is a remarkable presentation combining digital technology, custom designed seats and a 2 story high screen providing a unique introduction and overview of New York City," states Marilyn Rivera, Vice President of Business Development at NY SKYRIDE, "we're excited to offer the discounted admission rate to tour groups traveling to New York City!"
Perfect for all ages and all seasons, the NY SKYRIDE is a completely indoor temperature controlled environment open all year round and conveniently located on the second floor of the Empire State Building - a must see New York tourist attraction.
Group Booking Benefits & Features:

Discount admissions for Adults, Students, Children and Seniors
FastTrack Program to save time on Empire State Building wait lines
No cancellation fees or penalties
No blackout dates
No prepayment
1 comp admission for each paid 20 admissions
To learn more about the NY SKYRIDE Group pricing:
Visit: NY SKYRIDE Discount Group Rates
Call to Book Group Tour: 1-888-SKYRIDE (1-888-759-7433) or 212-299-4904
To learn more about Group Tour Benefits & Features
About NY SKYRIDE:
New York Skyline, Inc., a wholly owned subsidiary, owns and operates the "NY SKYRIDE," a multi-million dollar, flight simulator attraction located in the Empire State Building. From its inception, New York Skyline's location based entertainment concept maintains a consistent philosophy of providing quality entertainment for the entire family. Using state of the art technology, the NY SKYRIDE provides unique on-site entertainment experience for guests of all ages with worldwide appeal.
###