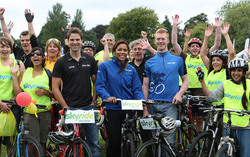 London, (PRWeb UK) September 2, 2009
Cyclists of all ages and abilities took to the streets of Leicester for the event hosted by Sky, in partnership with British Cycling and Leicester City Council. They were joined by Olympic medallist Ed Clancy MBE and the 2008 UCI BMX World Champion Shanaze Reade, as well as TV personality Gethin Jones.
The route linked the Golden Mile, St Margaret's Pasture Sports Centre and Abbey Lane. As well as having the opportunity to see their city in whole new light, participants were able to take part in a number of activities organised by Sky. Riders could join a fancy dress cycling parade after having their bikes customised by artists in the Skyride Style Zone, watch Professional BMX riders performing tricks in the Skyride Street Zone, and pick up tips on health and wellbeing from British Cycling and the Department of Health's Bike4Life initiative in the Skyride Active Zone.
People in the region inspired by this event can also get involved in Skyride Local rides which run every Sunday through to October. They are led by fully trained cycle leaders from British Cycling and take in everything from the countryside and local sights, to historical and art tours. Riders can pick a level to suit their age and ability and are given a hi-visibility vest for the ride, as well as a free t-shirt to keep. For full details on the next Skyride Local in your area please visit http://www.goskyride.com.
Skyride Leicester was the fourth in a series of five city events fourth in a series of five city events taking place across the country, encouraging people to get back on their bikes and enjoy the benefits of a fitter, healthier lifestyle. Events have already taken place in Manchester, Hounslow and Glasgow and the final event will take place in central London on 20 September. These are running alongside a series of over 400 smaller local and guided rides, led by fully trained coaches from British Cycling, with over 100 taking place in and around Leicester.
For more information on today's event simply visit http://www.goskyride.com
###