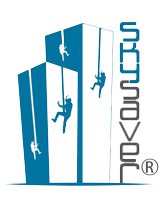 SkySaver products have been tested per ASTM E2484 - 06 and can be recognized within the NFPA 101: Life Safety Code®, as supplemental evacuation devices.
Manhattan, NY (PRWEB) October 29, 2012
SkysaverUSA is raising awareness about the latest evacuation equipment needed to survive high-rise fires. This year's National Fire Prevention Week, Oct. 7-13, provided a special safety message for apartment building residents who comprise over 30% of the US population. According to NFPA, the National Fire Protection Association, each year an estimated 15,000 high-rise structure fires cause an average of 60 deaths and 930 injuries. During NFP week, which was themed "Have 2 Ways Out!", the Safe Evacuation Coalition and SkysaverUSA worked on spreading the word about the importance of fire escape planning and the newest fire escape equipment. These single and multiple user fire escape devices now enable trapped residents to jump from a high rise windows and survive.
For inhabitants of multi-story buildings it is so important to have a home fire escape plan that prepares the family to think fast and get out quickly when the smoke alarm sounds. The facts are that when fire strikes; an apartment can be engulfed in smoke and flames in just a matter of minutes. "Have 2 Ways Out!" means: What if the first escape route is blocked by smoke or flames? What is the alternate escape route? According to a 2002 "Highrise Fires Report" from FEMA, the Federal Emergency Management Agency, high-rise fires are more injurious and cause more damage than all other structure fires. This, as often access to the stairwell is immediately blocked by the fire origin. Statistics show that 43% of high-rise fires originate in the kitchen, 9% begin in the bedroom, 6% in a trash/rubbish room, and 5% in a hallway.
While typically the first escape route is a door, the second way out is more often than not a window. Until now, if one was endangered by fire or terrorists in a multi-story building, jumping out of the window was not an especially practical way to survive the fire (USA Today estimated that over 200 people jumped to their deaths from the Twin Towers). So what options do apartment residents have other than waiting for rescue teams to arrive? To solve this perilous problem members of the Safe Evacuation Coalition have introduced a number of cutting edge technology window escape devices specifically tailored to both mobile and limited mobility inhabitants of multi-story buildings.
One of the newest, the SkySaver Personal Escape Device has been specifically designed to answer the fire emergency window-egress needs in residential apartments. The reliable SkySaver rescue kit consists of a certified high-strength but lightweight cable stored in a backpack. During an emergency, the escapee dons the backpack and affixes the end of the cable to a suitable anchor. As the evacuee exits from the window, the cable is played-out from the automatically braked controlled descent device enabling a safe landing on the ground below.
SkySaver products have been tested per ASTM E2484 - 06 and can be recognized within the NFPA 101: Life Safety Code®, as supplemental evacuation devices. Many of the recent advances in filling this safety equipment void are the result of the Safe Evacuation Coalition working together with ASTM and NAFPA. This work culminated in the recently updated standards advocating emergency use of supplemental devices. The Coalition created by innovators and producers of safe high-rise building evacuation devices has set its goal is to educate the public on safe, external evacuation devices and promote their inclusion in fire safety standards throughout the world. With the arrival of SkySaver's exterior escape products and the adoption of standards that paved the way for their use, we may finally be seeing the fulfillment of the National Institute of Standards and Technology (NIST) recommendations ( from their 2005 Report on the collapse of World Trade Center Towers) that: "... the full range of current and next generation evacuation technologies should be evaluated for future use, including …exterior escape devices …which may allow all occupants an equal opportunity for evacuation ..."
SkySaver and the Safe Evacuation Coalition are proud to be part of turning this year's FPW theme "Have 2 Ways Out!" from one that is "easier said than done" into a practical reality. If you are one of the 36% of us living in a multistoried building, in a high-rise apartment, Condo, or Co-op, you can feel more secure knowing that: 1) with proper fire safety planning and 2) equipping yourself with two affordable safety devices, a smoke alarm and a personal evacuation device, you and your loved ones have a much better chance than ever of surviving a catastrophic event.