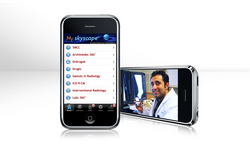 Our users value access to clinical, specialty-specific information on their mobile devices. We partner with medical publishers, institutions and societies to bring this trusted content to our user community
Marlborough, MA (PRWEB) May 30, 2009
Skyscape®, the worldwide leading service for trusted medical information for mobile devices, announced a historical milestone: the company's user network has now reached over 1 million healthcare professionals. Anticipating the celebration of this milestone, Skyscape had announced the program 'March to 1 Million' earlier in the year. During the month of March, Skyscape's community responded enthusiastically to the referral program and its array of rewards offered to the Millioneer (the qualifying customer who pushes Skyscape's customer database to over one million users).
Skyscape is pleased to announce that Dr. Omar Saleh from Mississippi is the Skyscape Millioneer. Dr Saleh is associated with the Diagnostic Radiology Department at the University of Mississippi Medical Center. He also works as an ER physician in Emergency Departments across rural areas of Mississippi. When asked about his decision to purchase Skyscape resources, Dr Saleh responded, "There has been a tremendous buzz about Skyscape among physicians and nurses. When I decided to add clinical resources to my Palm Centro, based on the recommendations from my colleagues I visited the Skyscape website and was impressed by the breadth and depth of the portfolio offered by Skyscape." Dr Saleh is subscribed to Skyscape's DrDrugs®: Drug Guide for Physicians and Archimedes 360° Medical Calculator for his smart phone. Though Dr Saleh did not know it then, his purchase qualified him as the Skyscape Millioneer. He has landed rewards including a Macbook, an iPod Touch, and a $200 shopping spree in the Skyscape store.
Dr Saleh has been very pleased to use Skyscape resources in his clinical activities. "I enjoy using my Skyscape products in the ER as well as in Radiology on a daily basis. I use them all the time, when managing adult as well as pediatric patients. DrDrugs® and Archimedes 360 have an abundance of information, are wonderfully organized and always within easy access. I just have to reach in my pocket and pull out my Palm Centro."
Skyscape offers a growing portfolio of trusted resources providing instant access to drug information, drug interactions, clinical and evidence-based information, specialty-based guidelines, along with its popular MedAlert™ service which provides medical news, research and clinical trials updates, and journal summaries by specialty.
"Our users value access to clinical, specialty-specific information on their mobile devices. We partner with medical publishers, institutions and societies to bring this trusted content to our user community," said Sandeep Shah, president and CEO of Skyscape. "We consider this millionth user milestone to be a tribute to our philosophy of combining innovative technology and collaborative partnerships with best-of-the-breed content providers. Ultimately, this is a win for clinicians, as they can truly trust their resources to in making treatment decisions without worrying about possible issues with content funded by sponsorships."
Dr Saleh is very excited to be a part of the Skyscape community. He says his Skyscape resources have become an integral part of his clinical workflow. He recounted a recent case, "There was a 20 year old female who presented with nausea, vomiting and hypotension. The clinical picture was concerning for UTI/possible urosepsis. It was very convenient for me to reach in my pocket and easily look up the best combination of antibiotic treatment to start her on, while we were stabilizing her vitals. Skyscape's Archimedes 360° Medical Calculator is great and contains all the calculations you need in the clinical setting, especially in the ER. The calculations and tables cover all types of specialties and come in handy; for example the Glasgow Coma Scale in pediatrics or adults in the setting of traumatic brain injuries and gives up to date guidelines as far as administering TPA for ischemic stroke."
Not surprisingly, Dr Saleh will be getting more Skyscape resources. He says, "These programs are great, and I plan on purchasing more to supplement my clinical work in the emergency room setting, as well as in diagnostic radiology. My next program I plan on getting is the Radiology Review Manual by Dahnert. I know the differentials and abundance of radiology information in Dahnert will help out a lot while I am reading CT scans in the Emergency room setting, and needing some extra help just one click away on my palm phone."
Skyscape specialty-based resources and content, including the online clinical calculator Archimedes Online can be accessed at the company website http://www.skyscape.com
About Skyscape
Skyscape® is the worldwide leading service for trusted medical information by specialty for mobile devices. Skyscape's service enables healthcare practitioners to tailor their experience from the most trusted medical information available and delivers it in an intuitive manner that supports natural thought flow for diagnosis and treatment. Skyscape has a registered user base of over 1,000,000 medical practitioners. Its more than 500 trusted resources cover 35 medical specialties. All are integrated via Skyscape's easy-to-use SmartLink™ technology and are available on Palm OS®, Windows® Mobile and Windows® powered desktop, BlackBerry®, iPhone, Nokia Symbian and Tablet PCs. Skyscape is a privately held company headquartered in Marlborough, Massachusetts. For more information on Skyscape and its service go to http://www.skyscape.com or call 508-460-6500.