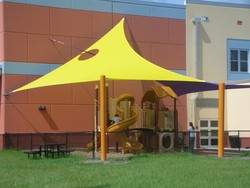 Americans are increasingly recognizing the need for shade, and we estimate that the tension membrane and shade structure industry could reach $1 billion here over the next six to eight years
Longwood, FL (Vocus) December 13, 2008
In an unprecedented move illustrating confidence in its products and the potential growth of the industry across North America, SKYShades, a leading tension membrane shade company based in Orlando, is offering a first-ever "money back guarantee" to potential franchise investors.
If new franchisees have not generated $1.5 million in revenue within their first three years, SKYShades will refund their $75,000 initial franchise investment. In operation since 2004, SKYShades has enjoyed its most successful year in 2008. Charlotte, N.C., recently became the eighth franchise for the company, and several existing franchisees are reporting growing interest and opportunities. In particular, the Southwest Florida franchise is projecting that it will complete over $1 million in sales in its first year of operation. Overall, SKYShades has seen a 25 percent increase in sales for 2008.
"We are offering this money back guarantee because we want potential franchise owners to know that even with concerns over the economy, we are experiencing tremendous growth and are committed to making SKYShades the premier tension membrane shade company in the industry," said Joe McKenna, executive vice president of SKYShades. "No other company in the U.S. offers as many services and products as SKYShades. We are diversified, and in a position to lead the nation."
Since becoming the first company in the industry to sell franchises a year ago, SKYShades has sold eight franchises in the U.S., Puerto Rico and the Bahamas. Current franchise locations include St. Petersburg, Fla.; Naples, Fla.; Houston, TX; West Palm, Fla.; Queen Creek, Ariz.; Nassau, Bahamas; Charlotte, N.C.; and, San Juan, Puerto Rico. In addition, the company has targeted several markets including Atlanta, Dallas, New Orleans, San Antonio and Columbia, S.C., for franchise expansion in the near future.
"Americans are increasingly recognizing the need for shade, and we estimate that the tension membrane and shade structure industry could reach $1 billion here over the next six to eight years," McKenna added. "SKYShades has developed an ideal business model for franchisees because we back our partners with the skills and expertise of the very best in the business."
Among the elements driving interest in SKYShades and the tension membrane industry is the announcement of an innovative product line designed not only to provide shade from the sun, but to produce clean and green power from it as well. Earlier this year, SKYShades announced a strategic partnership with Konarka Technologies Inc., an innovator in development and commercialization of Power Plastic®, a material that converts light to energy. The collaboration resulted in a prototype product, known as a Powerbrella™, which incorporates the lightweight Power Plastic® film onto the exterior of SKYShades' retractable SKYbrella.
Testing on the Powerbrella™ prototype has taken place throughout the past year in Orlando, Fla., with overwhelming success. The first five Powerbrellas™ will be available for purchase before the end of 2008 with full production expected for 2009. Already expressions of interest have been received from national chains of coffee outlets and hotels/resorts that recognize their unique capability to provide shade and at the same time allow clients the added benefit of being able to recharge laptops, iPods, cell phones and other appliances while enjoying a coffee break. Moreover, these national chains are driven by an awareness of the need to generate clean, green alternative energy sources.
"Our partnership with Konarka is already leading the industry because they've addressed the cost of solar power issue by establishing a low-cost production method for photovoltaics," said McKenna. "SKYShades has designed a unique bonding process to integrate Power Plastic® onto canopies, and this technology will be installed on the rooftops of parking lots, at hotels and resorts, restaurants and coffee shops or most outdoor venues. All of this will be available to SKYShades franchisees."
SKYShades also offers franchisees unlimited access to operations manuals, marketing materials, concept designs to use in proposals and quotes, and detailed engineering information to understand the installation process.
"The hard part about breaking into the booming global tension membrane structure market has been the difficult task of finding experienced designers and engineers needed to design," said McKenna. "SKYShades, which boasts a team of designers and engineers with a collective 200+ years of experience, has been accredited by The American Institute of Architects to conduct continuing education seminars for registered architects. We've proven we know what we're doing, and we're offering our knowledge to our franchisees."
Dale Campion of SKYShades Southwest Florida, which services Naples and the surrounding counties, believes that in addition to being a quality product, what has helped him enjoy tremendous success during his first year as a franchise owner is the expertise and experience of the SKYShades team.
"People love SKYShades because they are a really high value product," Campion said. "The technical expertise we have received through SKYShades is also outstanding. The engineers are amazing to work with and have tremendous understanding of the industry and the products."
The "money back guarantee" for new franchises is a limited time offer that is currently scheduled to be available through the end of the first quarter of 2009. For more information, prospective franchisees should visit http://www.skyshades.com and http://www.skyshades.com.au or contact Joe McKenna at: Joe @ Skyhades.com.
About SKYShades
Founded in Australia and recognized as a world leader in creating tension-membrane shade fabric structures, Orlando, Florida-based SKYShades is using cutting-edge technology to reduce sun exposure and develop clean green energy sources. The company is the first in its industry to offer franchise opportunities, and through a partnership with Konarka Technologies is incorporating thin-film solar energy cells into its shade structures utilizing a specially designed bonding process. SKYShades' visually attractive structures create an identity, increase revenue streams and offer an attractive and less expensive alternative to brick and mortar shading in applications from resorts, playgrounds and schools to malls and recreation spaces. For more information, visit http://www.skyshades.com.
###