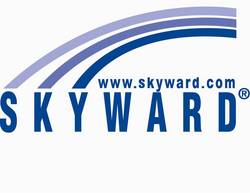 This software is cutting edge technology for K-12 school districts
Stevens Point, WI (Vocus) February 12, 2009
Skyward, the industry leading K-12 administrative software provider, announced today the availability of the latest version of the Skyward School Management System™. The Skyward School Management System™ is comprised of Skyward's completely web-based Student Management Suite and their School Business Suite. It represents the only integrated student, finance and human resources software package that lets districts manage student progress, annual budget, employee pay, and even food service from a single centralized database.
"This software is cutting edge technology for K-12 school districts," said Kevin McFerrin, Skyward Vice President of Business Development. "Skyward software follows the OHIO method, 'Only Handle It Once.' Administrators are able to make a single change within the software and the results populate throughout the entire system."
The Skyward Student Management Suite™ operates in a true HTML environment, requiring nothing to be loaded on the local desktop. This latest version also offers great new features such as the Skylert emergency notification system, Online Assignments that also populates scores directly to the Gradebook, and even more interactive tools for opening the lines of communication between families and schools.
Additionally, the Skyward School Business Suite™ now provides greater capabilities for districts to save money through integrated document storage, electronic accounts payable processing, and expanded position and applicant processing. The Skyward system allows districts to further streamline daily operations by converting these paper intensive tasks to a digital environment, thus reducing their impact on the environment.
The Skyward School Management System™ offers seamless integration between the financial management and student management for school districts allowing them to be more efficient and accomplish more with dwindling funding sources. This increased efficiency allows districts to focus more of their increasingly limited resources in the classroom while maintaining a superior level of administrative operations.
Since 1980, Skyward (http://www.skyward.com) has been serving the K-12 Administrative software needs of school districts. Today, Skyward's School Management Systems™ are found in over 1,300 school districts throughout the United States and internationally. Skyward's School Management System represents an integrated student and financial management software system designed to keep administrators, educators, and families connected.
Contact: Amanda Fisher
Telephone: 800-236-7274
###