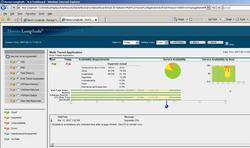 When software vendors lose touch with their end users, their products become cumbersome and end up on the shelf. We've worked hard to listen to our customers and focus on their business needs.
Braintree, MA (PRWEB) March 17, 2009
Heroix, a leading provider of application performance and network monitoring software, today announced general availability of Longitude V6.1, the latest update of its agentless IT infrastructure monitoring and reporting software. The new release increases monitoring breadth, scalability and reliability with enhancements fueled directly by the company's installed base.
Longitude is agentless application performance and network monitoring software that monitors, alerts and reports on availability and performance of critical applications and infrastructure on Windows, Unix and Linux systems. Longitude monitors vital performance metrics, alerts IT personnel to problems, solves problems proactively, monitors service level agreements, provides real time dashboards, and generates reports and graphs.
According to Heroix President Rick Lane, the ability to monitor service level agreements (SLAs) is of particular importance to IT organizations tasked with maintaining service levels in the face of cost-cutting initiatives. "Cutbacks in the wrong places can send important applications into a tailspin and damage the business. Without adequate monitoring information, IT personnel are in effect flying blind. Good SLA monitoring can map problems instantly to the business services affected, which allows a stretched IT staff to prioritize. The team is then able to focus on what is most important to the business."
Longitude's SLA monitoring capability allows IT organizations to group together the availability and performance metrics that comprise a multi-tiered application in order to monitor application performance from a business service standpoint. By monitoring across multiple tiers, including the application, database, and Web server, Longitude shows interdependencies and how combinations of conditions affect service levels. The root cause of problems can be pinpointed faster so that time-to-resolution is quicker. This decreases the company's exposure to what can be the very hefty costs of failing to meet SLAs, including loss of sales and customer loyalty.
First released in 2005, Longitude monitors application and network performance without requiring agents to be installed on monitored systems. It can be deployed in about 15 minutes by installing on a single management station. The new release provides cost-effective scalability by utilizing the SAP MaxDB database management system. Other recently introduced features include monitoring of Citrix Presentation Server, the ability to receive and analyze SNMP traps, and Syslog events. V6.1 also provides browser support for Firefox 3.0 for web-based performance monitoring and reporting. "Everything we put into Longitude reflects input from our users on ways to manage mission critical applications more effectively," said Lane. "When software vendors lose touch with their end users, their products become cumbersome and end up on the shelf. We've worked hard to listen to our customers and focus on their business needs."
Pricing and Availability.
Longitude V6.1 is available now, and Heroix offers a 14-day free trial of Longitude. Please visit http://www.heroix.com or call 800-229-6500 or 781-848-1701 for Longitude pricing.
About Heroix
Heroix (http://www.heroix.com) delivers award-winning software products that help organizations optimize the availability and performance of applications, databases, systems, and IT infrastructure running across multiple platforms. Today, with a presence in over 40 countries, Heroix has delivered performance management solutions to over 1,000 organizations worldwide, including Arrowsight, Fallon Clinic, Kaiser Permanente, Honeywell, Tembec, Motorola, Inc., and Young Broadcasting.
###