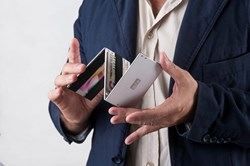 The main feature of SLAB is that it doesn't 'flash your cash.'
Montreal (PRWEB) January 22, 2014
On January 24, Vladimir Pashkov will bring his latest creation, the SLAB ultimate travel wallet, to Kickstarter. Confident that his three-plate magic wallet will provide unprecedented security and usability, Vlad has taken to crowdfunding to help him gain the monetary support he needs to bring this product to consumers.
SLAB is a new twist on an old idea, bringing 21st century flavor to the "magic wallet" concept developed in the 1920s. Made from the customer's choice of aerospace-grade aluminum or grade 5 titanium, the wallet offers radio-frequency identification (RFID) protection, a feature that protects against identity theft done by electronic card readers. Twelve rare earth magnets keep the plates aligned and closed. Still, the wallet is just 11 millimeters in thickness and, depending on the specific edition, weighs between 99 and 180 grams. Pricing ranges from $75 to $250 during the Kickstarter campaign.
Not only is the new product sleek and modern, but its construction offers an organized and usable design. SLAB securely holds two credit cards, two SIM cards (regular and mini) and two Micro SD memory cards in precisely engineered slots. Elastic bands allow cash to be kept in a more compact and concealed manner than regular wallets, making users less of a visual target for theft.
As someone who has lived all over the world, Vlad has been the target of pickpocketing on several occasions. He is hopeful that SLAB will protect others from becoming victims of similar incidents with the product's easily concealable design. In addition to the three-plate wallet, Vlad will also have two more basic metal wallet designs available for customers to choose from. The pricing for these options starts at just $25 for those who back the product on Kickstarter.
"I've always had a love for well-designed wallets," Vlad said. "But I knew I wanted to create a wallet that would bring people a better sense of security through concealment. The main feature of SLAB is that it doesn't 'flash your cash.' You can keep two sets of bills, big and small, separately. So when you open it in public places, such as at a convenience store, you open the small bill side. When you pay for a nice meal at a restaurant, you open the side containing larger bills."
SLAB will launch on Kickstarter with a goal of $18,000, the amount needed to cover start-up production costs. Product backers have the opportunity to pre-order their SLAB, and they receive a special discount ranging from $10 to $31 off regular price. A special Founder's Edition is available to some of the highest pledging backers.
For more information on SLAB, and to keep up with the upcoming Kickstarter campaign, visit http://www.slabwallet.ca. Also, like SLAB on Facebook and follow them on Twitter @slabwallet.
About SLAB
SLAB is the ultimate travel magic wallet that organizes money, credit cards, and even SD memory cards securely and compactly. Perfect for the frequent traveler, SLAB makes it easy to carry the money you need without flashing your cash and leaving you more vulnerable to theft. The thin three-plate metal design offers radio-frequency identification (RFID) protection, a feature that protects against identity theft done by electronic card readers. To learn more about SLAB, visit http://www.slabwallet.ca.