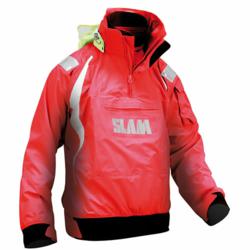 San Diego, CA (PRWEB) May 03, 2012
Point Loma Outfitting has announced the arrival of SLAM's new and improved Force 4 Series of Foul Weather Gear. Point Loma Outfitting, a leading store in specialized apparel for life on the water, is the largest retailer of SLAM sailing clothing in the United States and offers a long line of premier technical gear and sportswear by the Italian company. Next in line from the Force 3 series, SLAM's Force 4 series features improvements to further increase comfort and enhance performance.
SLAM's Force 4 Jacket is a 3-layer sailing garment that's extremely waterproof, yet breathable, with adjustable neoprene closures around the neck, cuffs, and waist to create watertight seals around the jacket. There are zipped double pockets on the sides to secure small tools and the double-zip front closure ensures secureness and comfort from splashing water. The bright yellow hood increases your visibility during rescue situations, while the clear patches located along the hood's edges won't inhibit peripheral vision. Specific to the Force 4 series, the jacket has mesh pockets with removable pads in the elbows to prevent injuries and increase comfort while crawling along the deck. The jacket is available in silver or red.
The 3-layer SLAM Force 4 Spray Top features improvements unique to the new 4 series, such as a lower storm collar to prevent chafing along the face and neck, and mesh pad technology in the elbows to increase comfort and thwart injury from impact. With adjustable neoprene cuffs, waist, and neck seals, the jacket remains waterproof, yet breathable. It has a highly visible yellow hood with clear patches inserted for increased peripheral vision and features a self-draining chest pocket to carry tools and other essentials. To aid performance even more, the SLAM Force 4 Spray Top has drainage holes along the sides and back to stop large splashes from bogging you down. The spray top is available in silver or red.
Accompanying the jacket and spray top are the SLAM Force 4 Long Johns, another 3-layer waterproof garment with a double-zip front closure and adjustable ankles. There are stretch shoulder patches to increase mobility, and reinforced knees and seat with added mesh padding to aid comfort and prevent injury while crawling along the deck. The long johns have a zipped chest pocket and an additional five pockets on the sides, one specifically for carrying your knife or other small tool. The Force 4 Long Johns are also available in silver or red.
See a video of the SLAM Force 4 Foul Weather Jacket
For more information on SLAM's Force 4 Series of foul weather gear, please visit the company website, http://www.slam-shops.com/, or call us directly at 619-224-4060.
Contact Information:
Point Loma Outfitting
2885 Perry Road
San Diego, CA 92106
619-224-4060
http://www.pointlomaoutfitting.com