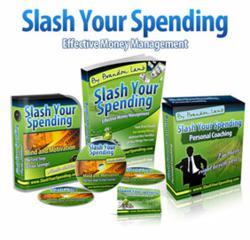 The money management guides that we find in bookstores are flawed, outdated and do not take into account today's major necessities and expenses - like cell phones, entertainment, and the latest gadgets
Phoenix, AZ (PRWEB) May 16, 2011
With the increased need to save money, people are finding innovative ideas to slash their spending. While most of the money management methods involve sacrificing on a vacation that people yearn for, saving money without going on a "starvation diet" is the need of the hour.
In the light of these advancements Brandon Lamb, a money management veteran has announced the release of his new E-book "Slash Your Spending". "Slash Your Spending" is a step-by-step blueprint on how to really save money in 2011 without cutting out vacations and giving up even the smallest luxuries.
Lamb carefully formulated "Slash Your Spending" to cover a wide array of different ways that can be used to stop spending so much, and start saving money. The book has been orchestrated to tell untold secrets with which people will not only save money by being frugal with spending but also involve themselves in activities that they truly cherish. Unlike the traditional "make sacrifices" advice to save money, Lamb adds a twist by giving an insider on how he saved over $17,000 in one year while still enjoying an active and fun social life. "Slash Your Spending" sheds light on unexplored ways to manage Personal and Household Expenses, Transportation Expenses, Travel Expenses, Entertainment Expenses, Medical and Insurance Bills.
"The money management guides that we find in bookstores are flawed, outdated and do not take into account today's major necessities and expenses - like cell phones, entertainment, and the latest gadgets," says Brandon Lamb, author of "Slash Your Spending". "My book delves deep into why the old methods of saving money are flawed at the very foundation, and how his method takes into consideration all the modern realities that we live with today."
"Slash Your Spending" is scheduled for its grand launch on May 19, 2011. It will be available in an electronic format, which provides immediate access to the book without the hassles of time, delivery, and shipping costs. The book has received an overwhelming response among a limited audience and is set to change the way people save money.
About Slash Your Money:
Slash Your Money (http://www.slashyourspending.com) is a step-by-step blueprint on how to really save money in 2011 without cutting out vacations and giving up even the smallest luxuries
For more information contact:
Brandon Lamb
E-mail: Brandon(at)SlashYourSpending(dot)com
Web: http://www.slashyourspending.com
###