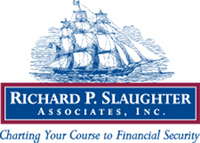 Austin, Texas (PRWEB) February 23, 2009
Darby Armont, CFP®, Vice President of Trading and Operations for Richard P. Slaughter Associates will speak at the 2009 Technology Tools for Today Conference (T3), February 26-28 in Dallas, Texas. The T3 conference is the industry's premier conference focused on meeting the technology needs of independent financial advisors.
Armont will speak Feb. 27 on a panel entitled, Update on Rebalancing Software. She will join David Houle of Huntley Thatcher Ellsworth, Ltd.; Sheryl Rowling, Total Rebalance Expert; Barrett Ayers, Adhesion Wealth Advisor Solutions; Gobind Daryanani, iRebal and Matt Springer, Tamarac, on the panel. The session will focus on best practices for investment advisors for managing portfolios and trading stocks, bonds and mutual funds.
Many advisors manage portfolios manually, resulting in poor pricing, potential for errors, and an inefficient use of time. However, they cannot afford the steep price for rebalancing software. Armont will teach fellow advisors that by using simple tools already at their fingertips, they can replicate many of the features of expensive software solutions without spending a dime.
Led by Armont, Slaughter Associates is a technology leader in the financial advisory industry. The firm's technology systems allow traders to make tactical portfolio moves quickly and with better pricing for clients. Additionally, the innovative software allows better, more efficient communication with clients, especially useful during turbulent times.
About Richard P. Slaughter Associates
Richard P. Slaughter Associates is a wealth management firm that delivers a comprehensive financial approach to its clients by providing financial planning, asset management, ongoing education and a lifespan relationship for a personal and individualized service. This approach is unique in a financial industry that is often segmented and outsourced. By committing to each of these important components, Slaughter Associates charts a path to reach the individual financial goals of its clients.
Founded in 1991 in Austin, Texas by Richard Slaughter, Slaughter Associates is one of the original fee-based firms in the nation. For more information contact: http://www.slaughterinvest.com.
###