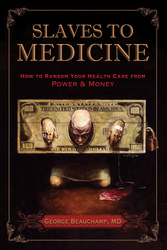 'Slaves to Medicine' is an important book that can help shape health care in our country for the next several decades.
Dallas, TX (Vocus) April 19, 2010 –
The recent book 'Slaves to Medicine: How To Ransom Your Health Care From Power & Money' (Brown Books) addresses how the health care system has been hostage for years. With the passage of President Obama's new health care reform bill, there is still plenty of room for concern. Health reform legislation brings with it profound implications for many. What's next for doctors?
Author George Beauchamp, MD, says, "Doctors will be in ever increasing demand, and the best doctors under siege. A major question is: will they be indentured public servants coerced under political whim, or will they be independent professionals free to care for citizens with choices?"
Beauchamp says after so-called health care reform, the hospital, pharmaceutical, and insurance industries will be happy with the prospect of feeding at the tax-payers supplied trough - leaving patients to make a difficult choice. They will have the liberty to make autonomous medical decisions while forging a caring and healing relationship with their free physicians, or they can line up at the welfare state clinics on Uncle Sam's dime.
With plenty of historical perspective to consider: Plato, Alexander Solzhenitsyn, FA Hayek, and Star Parker - Beauchamp wonders aloud, "That we enslave our doctors and ourselves at the price of liberty is an enduring and recurring narrative. What is not understandable is why supposedly free people in a democracy will choose a path of servitude to central authority - some calling them Czars these days - in return for promises we know cannot and will not be kept."
Beauchamp says change should spring from a belief that preserving health and providing health care is necessary for our society, our economy, and our morality. "The changes imperative for a 'Values-Based Health Care System' are realizing that health care is not a cost center but an enormous productive, and enterprising industry noting health actually creates wealth!"
He continues, "The lure of a free lunch (and free medicine), is so enticing that any Ponzi scheme will do, even when it is sponsored by government. The ethics of all of this will turn ugly very quickly, and then we will see the seizure of our liberties, our property, and our personhood for what it truly is." Doctors will be grieving for their patients and for their profession. Many will even forgive people for what they do.
People should consider the kind of relationship they currently have with their doctors keeping in mind who might be manipulating it - as if their lives depend on it – because it does. David Cutler, Professor of Economics at Harvard University says, "'Slaves to Medicine' is an important book that can help shape health care in our country for the next several decades."
George Beauchamp, MD, is a practicing pediatric ophthalmologist and strabismus surgeon in Dallas, Texas. He is a professor of clinical ophthalmology at the University of Texas Southwestern Medical Center at Dallas teaching medical ethics, and serves as Chairman of the Children's Eye Foundation.
Contact:
Cindy Birne
Brown Books Publishing
972-381-0009
###