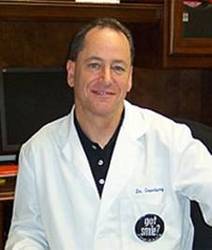 We have patients who come to us who have been urged by their spouse, significant other, or even children who hear them actually stop breathing while they are sleeping
Los Angeles, CA (PRWEB) September 10, 2009
The newly released Johns Hopkins research study with over 6,000 patients shows a shocking 46% risk of death for untreated severe sleep apnea patients and moderate cases have a risk factor of up to 17%.
Dr. Greenburg is the inventor of a new, patent-pending oral appliance that has been getting great results with severe and moderate sleep apnea patients.
"The main thing is that these patients start getting treated and reduce their risk" says Dr. Greenburg who several years ago gave up his dental practice to focus exclusively on sleep apnea treatment. "We have patients who come to us who have been urged by their spouse, significant other, or even children who hear them actually stop breathing while they are sleeping" says Greenburg.
Sleep apnea is at epidemic proportions in the United States with over 18 million people being affected. Symptoms include loud snoring, gasping for air, waking up tired and fatigued, as well as falling asleep during the middle of the day.
Many of these symptoms result in patients who eventually find their way to their health care provider, get a sleep study and are prescribed a CPAP (continuous positive airway pressure) machine. CPAP is virtually 100% effective in the treatment of sleep apnea, however studies show that in excess of 60% of CPAP patients do not like the treatment and are non compliant, thereby once again increasing risk of heart attacks, strokes and other life threatening diseases.
"I see patients that absolutely hate their CPAP machine and it's in the closet gathering dust" says Greenburg. "They have tried the 'boil and bite' oral appliances, pillows, sprays and even jaw slings, all to no avail" Dr. Greenburg adds.
"If the device doesn't address the cause of the obstruction, then it simply won't work, or the results will be temporary. My invention addresses the cause of the airway being blocked, which is the tongue."
Dr. Greenburg who has 4 offices in the greater Los Angeles and Orange county area is both excited and concerned about the Johns Hopkins research. According to Dr. Greenburg, "This type of high-level research hitting main stream media provides valuable education and awareness of the dangers of sleep apnea, emphasizing the importance of getting treatment. That is encouraging. What concerns me, however, is the number of people who are afraid to explore treatment options because of economic worries or who are in denial because of fear of the unknown."
"My sincere hope is that people will be motivated to make the call to discuss their personal situation and options. We have successfully treated hundreds of patients who now enjoy freedom from CPAP and a much healthier life. Once people discover how easy and affordable the solution is, they will be truly able to get the rest they need. We are here to help them do just that" adds Greenburg.
"The new Johns Hopkins study may be just the wake up call they need to take action, no pun intended" quips Greenburg.
For more information on effective sleep apnea treatment and CPAP alternatives call 888-31- SNORE or visit http://Cpap.Apnea-Treatment.com
###