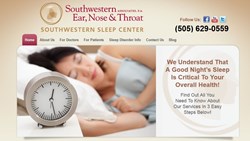 We Understand That A Good Night's Sleep Is Critical To Your Overall Health!
(PRWEB) February 05, 2013
The Southwestern Sleep Center in Santa Fe now provides CPAP machines and supplies making it convenient for patients diagnosed with sleep apnea to get the equipment they need to begin treatment.
Patients that believe they may suffer from sleep apnea should book an appointment for a comprehensive evaluation and sleep study. Your doctor will discuss the findings with you and may or may not recommend CPAP - Continuous Positive Airway Pressure - for you. If your doctor recommends CPAP for your sleep apnea, you'll be able to get the machines, accessories and supplies from Southwestern Sleep Center in Santa Fe.
Patients that have been diagnosed with sleep apnea and had a CPAP machine recommended to them by another qualified sleep center, should call to inquire about the equipment that Southwestern Sleep Center has available.
About Southwestern Sleep Center
Southwestern Sleep Center is the only comprehensive sleep medicine provider in all of Northern New Mexico. We evaluate and treat obstructive sleep apnea and other sleep disorders. Our sleep medicine physicians provide full-service consultations with the oversight and interpretation of sleep studies, initiation of therapy, and close long-term follow up. Southwestern Sleep Center is a part of Southwestern Ear, Nose and Throat Associates (SWENT). Known for comprehensive ear, nose, and throat care, SWENT features centers in audiology, hearing aids and sleep disorders.
About Our Sleep Center Physicians
Dr. Wolfgang Schmidt-Nowara, M.D. is a past president of the American Academy of Sleep Medicine and of the American Board of Sleep Medicine. He established New Mexico's first accredited sleep laboratory and developed it to a leading position in the clinical care, research, and teaching of sleep disorders.
Dr. Roger Wiggins, M.D. attended St. Louis University School of Medicine. Pursuing a long term interest in sleep medicine, Dr. Wiggins completed a sleep medicine fellowship at Case Western Reserve University in Cleveland.
Contact:
Southwestern Sleep Center
1919 Fifth Street, Suite A
Santa Fe, NM 87505
(505) 629-0559
http://sleepnm.com