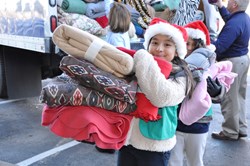 These blankets will provide warmth, comfort and hope for women and children seeking shelter from abuse.
Dallas and Austin, Texas (PRWEB) December 18, 2013
During Sleep Experts' 10th annual Share the Warmth Blanket Drive, the retailer collected more than 6,000 blankets and other comfort items for families in need, thanks to the generosity of the Texas community and a big helping hand from the Girl Scouts.
Last week Girl Scout troops and Sleep Experts volunteers worked together to deliver the donated items to The Family Place in Dallas and SafePlace in Austin.
According to Paige Flink, Executive Director of The Family Place, and Julia Spann, Executive Director of SafePlace, the blankets will provide warmth, comfort and hope for women and children seeking shelter from abuse, some who have fled their homes and left everything behind.
Share the Warmth is an annual holiday tradition at Sleep Experts. Each November, the retailer asks the community to donate new and gently used blankets, as well as comforters, sheets, towels and pillows, at 55 Sleep Experts locations throughout North and Central Texas.
This year more than 2,000 Girl Scouts from Northeast Texas, Texas Oklahoma Plains, and Central Texas councils participated and earned Share the Warmth badges.
Now in its tenth year, Share the Warmth has donated more than 20,000 items for area shelters serving women and children in crisis. Share the Warmth is an extension of Sleep Experts' Share the Gift of Sleep mattress donation program, which has donated more than 12,000 recycled mattress sets to area shelters since the company's inception in 2003.
About Sleep Experts
Sleep Experts is a mattress specialty retailer with 55 stores in North and Central Texas. The company has become one of the fastest growing mattress retailers in the U.S. by creating a strong culture focused on serving the customer and the community. Sleep Experts has been recognized seven times as a Best Place to Work in North Texas, earned distinction as an Inc. 5000 company, and is a winner of the Greater Dallas Business Ethics Award. Sleep Experts shares the gift of sleep with families in need by donating customers' old mattresses to local non-profit organizations. For more information, visit http://www.sleepexperts.com or call (888) 55-SLEEP.