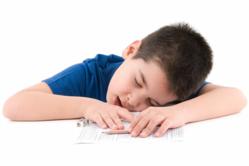 Children need adequate sleep or there are negative consequences to their development. A child may benefit from a sleep study to determine whether or not they have a sleep disorder or if they do, in fact, have ADHD
Los Angeles, California (PRWEB) August 07, 2012
While the number of children diagnosed with attention deficit-hyperactivity disorder (ADHD) increases steadily year after year, some experts say it's time to take a look at whether the diagnosis is accurate or if their symptoms are part of an entirely different problem: sleep deprivation.
The Centers for Disease Control and Prevention reported a 22 percent increase in ADHD diagnoses from 2003 to 2007. This significant increase has led experts such as Dr. Hooman Shabatian, a sleep specialist from the Los Angeles Sleep Study Institute, to question whether these children may benefit from a sleep study to determine whether they have been misdiagnosed.
"General symptoms displayed by sleep-deprived children mimic the symptoms of ADHD," said Dr. Shabatian. "Children need adequate sleep or there are negative consequences to their development. A child may benefit from a sleep study to determine whether or not they have a sleep disorder or if they do, in fact, have ADHD."
Sleep deprived children may become rambunctious and moody, classic indicators of ADHD. Unfortunately, the medication used to treat these children may only worsen their sleep, since the common medications for ADHD such as stimulants like Ritalin, Adderall or Concerta contribute to insomnia.
Dr. Shabatian said that children who snore regularly or have nighttime breathing complications like sleep apnea may display behavioral problems due to sleep deprivation.
"Sometimes these breathing disturbances are caused by ailments like sleep apnea, and frequently children with enlarged tonsils and adenoids will have breathing problems which can be corrected with surgery," said Dr. Shabatian. In fact, The National Institutes of Health is currently performing a Childhood Adenotonsillectomy Study to be released this year, which will determine the effects of surgical removal of the adenoids and tonsils in relation to health and behavior of 400 children.
Children who snore or have other nighttime breathing conditions are between 40 and 100 percent more likely to display symptoms of hyperactivity by age seven. That is the conclusion of a study published in March in the journal Pediatrics which followed 11,000 British children.
Karen Bonuck, lead researcher from the Albert Einstein College of Medicine at Yeshiva University in New York, said if the nighttime breathing and sleep issues are addressed children with behavioral problems, their conduct will likely improve. Some of the changes will include a difference in their internalizing behaviors such as anxiety and depression and externalizing actions like hyperactivity, she said.
For more information about sleep deprivation and associated health complications visit http://www.sleepstudyla.com.