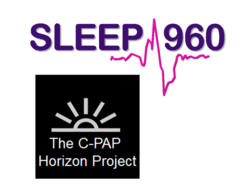 CPAP Horizon Project is truly dedicated to improving the apnea patient's ability to better manage the many aspects of CPAP therapy.
Fort Myers, FL (PRWEB) January 31, 2013
Signature Sleep Services (dba Sleep960) announced today it has entered into discussions with CPAP Horizon Project to improve the overall management of the sleep apnea patient after they have been referred to HME providers. There are many elements to the sleep patients complete care cycle that utilize specialized software applications and medical devices. For the most part these components do not communicate with each other and therefore do not share data between platforms.
Sleep960 has taken steps towards a more collective interface with the introduction of SleepScreener, a web based application that effectively screens and electronically refers sleep disorder patients to facilities licensed to access the application. It also links participating health care providers together and allows these practices to cross refer among them. An important aspect of the application is that it includes a secure Application Programming Interface available to 3rd party technologies to facilitate the exchange of patient information in multiple formats with other related platforms.
SleepScreener also interfaces with the ZWare Home Sleep Testing (HST) Management Platform, which allows patient demographics and insurance information to be imported automatically and, thereby, eliminating redundant data entry. This program then manages the entire process of setting up a number of different HST devices, downloading the data, interpreting the results and generating reports. ZWare also has the ability to continue the care cycle by managing the patient's therapy options though e-prescribing and CPAP inventory control.
This sets the stage for the final component of the cycle for many OSA patients – ongoing CPAP therapy. CPAP Horizon Project has developed a specialized cloud application that allows the patient to better manage their own CPAP therapy. Called "Manage My C-PAP" this comprehensive app provides patients the ability to interact with their HME provider on a level previously unavailable. Manage My C-PAP gives patients one convenient place to maintain relevant records, complete virtual checkups, track their therapy, order replacement supplies, get information about Sleep Apnea and CPAP therapy, get sleep coaching, and to get support from their CPAP equipment provider when they need it.
"CPAP Horizon Project is truly dedicated to improving the apnea patient's ability to better manage the many aspects of CPAP therapy," said Michael Clark, VP of Sales and Business Development. "Their new management app will go a long way to increase the patient's control of their own therapy and at the same time provide HME suppliers a fantastic tool to improve their own bottom line. This also allows us to flow information down the chain into this app and successfully complete the last segment of the patient's complete care cycle."
"We are very excited about working with Sleep960 and couldn't be happier about the strength this relationship brings to both parties," said Doug Hudiburg, CPAP Horizon Project Founder, "There are very few companies in the sleep disorders market who are putting the patient in the center and paying attention to the 'big picture' of the complete care cycle... we are happy that Sleep960 is leading the way and including us in their plans."
The Manage My CPAP application is presently in final beta testing and will be officially released in mid-February.
About Signature Sleep Services LLC
Signature Sleep Services (dba Sleep960) is a sleep medicine resource company providing diagnostic & therapy products, consultation & management services and Polysomnography educational courses. Our products focus on improving the complete care workflow cycle from initial screening, testing, treatment and successful outcomes for the sleep disorder patient. A sister company the Florida International Sleep School provides a variety of Polysomnography courses with a blended mix of on-line, on-demand and traditional classroom sessions.
About C-PAP Horizon Project
C-PAP Horizon Project exists to help improve results within the existing US C-PAP therapy delivery system. Our primary objectives are to help improve awareness and diagnosis of sleep apnea, help C-PAP users have the best possible chance of success, help effective C-PAP therapy providers run profitable and growing businesses, and help C-PAP users move beyond the need for C-PAP therapy, when possible, through lifestyle modification programs.