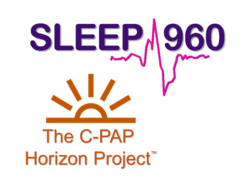 With shrinking reimbursements in both the sleep diagnostic and treatment segments, there needs to be a more efficient way to reduce overhead and increase revenues
Fort Myers, FL (PRWEB) February 27, 2013
Signature Sleep Services (dba Sleep960) announced today that it has signed agreements with C-PAP Horizon Project to integrate their respective sleep medicine products and services and to work together with marketing efforts to promote a platform of applications, devices and services designed to improve efficiency of the patients complete care cycle and reduce associated costs. The problem with the current system is that it has many components delivered by a variety of products that do not share data and were not designed to work together in an efficient manner.
Sleep960's optimized care cycle starts with SleepScreener, which is a web based application designed to effectively screen and electronically refer patients with all the major sleep disorders to any sleep center licensed to use the application. Once the patient's information is entered into SleepScreener it can then be shared with any of the other applications and devices that are part of the platform. This includes HST and PSG devices, EMR and EHR systems, DME and HME management programs, internet insomnia treatment, virtual coaching, clinical outcomes and billing and collection applications. Other additions are planned to compliment the expanding platform.
C-PAP Horizon Project provides technology and business services for home medical equipment (HME) providers who specialize in C-PAP therapy, the treatment of choice for a chronic condition called Obstructive Sleep Apnea (OSA). C-PAP Horizon Project offers a variety of services to the HME provider all designed to increase revenue, reduce patient management overhead, and improve patient satisfaction and adherence to therapy. Manage My C-PAP, a web/mobile patient utility application, the company's flagship product, is currently in limited release with a full launch planned for June of 2013.
"With shrinking reimbursements in both the sleep diagnostic and treatment segments, there needs to be a more efficient way to reduce overhead and increase revenues." Says Michael Clark, VP Sales and Business Development "C-PAP Horizon Project brings those tools to the table allowing both HME providers and patients better manage the PAP therapy and follow-up process. The founder Doug Hudiburg has a firm handle on what it takes to both reduce these costs and increase HME revenues so his contribution to the platform is significant."
According to Doug Hudiburg, Founder of C-PAP Horizon Project, "Sleep960 and their innovative SleepScreener application provide important and long overdue efficiencies and data continuity. The current system involves a lot of manual transfer of information and data re-entry. Not only is it critical to improve efficiencies in the care cycle, but it is also very important to make sure that all of the information that is gathered along the way is available to 'downstream' providers."
About Signature Sleep Services LLC
Signature Sleep Services (dba Sleep960) is a sleep medicine resource company providing diagnostic & therapy products, consultation & management services and Polysomnography educational courses. Our products focus on improving the complete care workflow cycle from initial screening, testing, treatment and successful outcomes for the sleep disorder patient. A sister company, the Florida International Sleep School,provides a variety of Polysomnography courses with a blended mix of on-line, on-demand and traditional classroom sessions.
About C-PAP Horizon Project
C-PAP Horizon Project exists to help improve results within the existing US C-PAP therapy delivery system. Our primary objectives are to help improve awareness and diagnosis of sleep apnea, help C-PAP users have the best possible chance of success, help effective C-PAP therapy providers run profitable and growing businesses, and help C-PAP users move beyond the need for C-PAP therapy, when possible, through lifestyle modification programs.