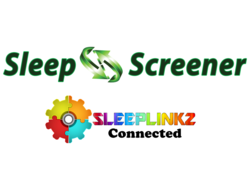 So in medical groups where every second counts we supply a unique entry code and encourage them to promote the use of the mobile site since it still offers the same patient experience with the questionnaire.
Fort Myers, FL (PRWEB) April 30, 2013
Signature Sleep Services (dba Sleep960) announced today it is launching a new mobile website providing patients access to their SleepScreener questionnaire application designed to screen for all the major sleep disorders. Presently the web based application is only accessible on internet connected tablets that are dispensed by the front office staff to patients in the waiting area or exam rooms of their health care providers. Here patients complete the questionnaire in less than 5 minutes alerting their physician if they are high risk for a sleep disorder on a secondary tablet or Smartphone.
SleepScreener has an open interface (API) designed to import patient demographic and insurance information directly from practice management programs, thus eliminating the need for staff members to input this data. Patients scheduled for any given day can be transferred into SleepScreener, allowing the receptionist to select an individual to complete the questionnaire and pass them the tablet. When finished the patient returns the tablet to the front desk and receptionist simply selects another patient from the list and repeats the procedure. Even though this process requires only a few screen touches, it still takes some time by the receptionist to cycle through all the patients in a given day.
In order to eliminate any interaction with the office staff, a mobile site was developed so patients could complete the questionnaire on their own mobile devices or home computer before their appointment or while they sit in the practice waiting area. Patients can be emailed an appointment reminder that also contains a link with a unique code specific to the practice that connects them to the new mobile website. Alternatively, they can also access the website with an entry code that is printed on the back of a brochure placed in the practice waiting room. In addition physicians now have the option to prescribe SleepScreener to patients they see during a consult that mention symptoms related to a sleep disorder.
"The two most common questions we get with SleepScreener are 'can it interface with my practice management software and can it really save me time with my patients'?" says Michael Clark, VP of Sales and Business Development. "Although we had reduced the time factor down to only a few tablet touches per patient by the office staff, there were still some concerns that even this was too time consuming for certain practices. So in medical groups where every second counts we supply a unique entry code and encourage them to promote the use of the mobile site since it still offers the same patient experience with the questionnaire."
Designated Health Care Providers using SleepScreener are alerted on a secondary tablet or Smartphone of any patients that are considered high risk after completing the questionnaire. They can then view the patient's sleep profile report, which details a number of items including medical history, comorbidities and recommendations for testing or other procedures such as CBT for insomnia. Another screen touch displays a populated referral form with the physician's electronic signature. One final touch sends the referral electronically to any sleep testing facilities that are licensed to access the incoming referrals. This entire process typically takes no more than four screen touches consuming less than one minute.
SleepScreener can also link other health care providers together allowing them to cross refer between practices. As an example, a PCP could send a sleep study referral to a sleep testing center which in turn could send a sleep dentist a referral for an oral appliance. The application also collects a variety of statistics such as; number of referrals per provider or physician, type of procedures ordered, insurance mix, etc. In addition SleepScreener interfaces with SleepLinkz, a new sleep medicine delivery platform that links together a variety of software applications, medical devices and related services designed to reduce overhead and increase revenues.
SleepLinkz will be officially introduced at the SLEEP2013 meeting in Baltimore June 3, 2013.
About Signature Sleep Services LLC
Signature Sleep Services (dba Sleep960) is a sleep medicine resource company providing diagnostic & therapy products, consultation & management services and Polysomnography educational courses. Our products focus on improving the complete care workflow cycle from initial screening, testing, treatment and successful outcomes for the sleep disorder patient. A sister company the Florida International Sleep School provides a variety of Polysomnography courses with a blended mix of on-line, on-demand and traditional classroom sessions.