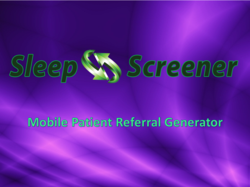 We have made the entire process of patient screening and referring down to a few finger touches on a mobile device
Fort Myers, FL (PRWEB) November 20, 2012
Most sleep medicine professionals would agree that upwards of 90% of patients with sleep disorders remain undiagnosed and untreated. This is not only the case with sleep apnea, but also includes the other major syndromes such as insomnia, narcolepsy, restless legs, parasomnias and the remaining 80 plus sleep disorders. Although the general awareness of sleep disorders continues to gain momentum, there still remains a significant bottleneck identifying those patients within the primary care practice.
"The continuing failure to recognize sleep disorders in the PCP setting constitutes a major personal and public health crisis that must be addressed in a more efficient manner" states says Michael Clark, VP of Sales and Business Development. "The majority of primary care physicians are under educated on sleep disorders and their practices are too busy to ask patients the appropriate screening questions." Dropping reimbursement for typical office visits also has a negative impact on the amount of time a PCP can spend with each patient.
Compounding this problem is that although there has been an increase in public awareness of certain sleep disorders, the majority of patients are not aware of the impact that lack of sleep has on their daily lives and the comorbidities associated with those disorders. Even if the patient wishes to discuss a sleep related problem it often comes at the end of the visit when the question of "hey Doc can you give me something to help me sleep better?" as the physician is walking out the exam room!
The latest version of SleepScreener address's these issues by screening patients for sleep disorders in a PCP office and thus reducing the physician time required to send a referral to a sleep specialist. This web based application runs on any mobile device or desktop computer with access to the internet. Typically the patient completes the sleep specific questionnaire on a wireless connected tablet in the PCP's waiting room with the results viewable on a secondary tablet or Smartphone by the physician or other assigned health care professional.
SleepScreener is much more than a sleep questionnaire since it generates a detailed Sleep Profile report and an electronically signed Patient Referral form that can be submitted to an assigned sleep center with a single finger touch. "We have made the referral process as simple as possible by auto-populating the referral form allowing the physician to make any changes only if required" says Clark. "In most cases the physician will only need to touch the screen 4 times to select the patient, view the results and send the referral."
The software application also organizes all the incoming patient reports and referrals to the sleep center for easy access. In addition, a variety of statistics can be tracked and graphed such as referral patterns, requested procedures and the percentage of the insurance mix. All valuable information for research work or for the sleep facilities marketing staff interested in closely following their referral sources. The application was designed with open API interfacing capabilities allowing it to exchange information with other EMR/EHR platforms.
About Signature Sleep Services
Signature Sleep Services (dba Sleep960) http://www.sleep960.com is a sleep medicine resource company providing diagnostic & therapy products, consultation & management services and Polysomnography educational courses. The management team has over 50 years combined experience in the field of sleep medicine with accumulated skills in product development, marketing, sales, sleep center development, operations, accreditation, management, insurance contracting and Polysomnography education. In the products sector Sleep960 offers a novel patient referral generator application for identifying and referring patients with sleep disorders in a medical practice setting. Additional products include an internet insomnia treatment program and complete PSG diagnostic system. In the services sector SLEEP960 provides sleep center accreditation assistance, management contracts and general consulting. A sister company the Florida International Sleep School provides a variety of Polysomnography courses with a blended mix of on-line, on-demand and traditional classroom sessions.