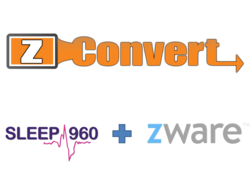 We developed ZConvert because there was a need to reduce the workload required to convert individual referrals into patients that actually show up for their appointments
Fort Myers, FL (PRWEB) May 28, 2013
Signature Sleep Services (dba Sleep960) and ZWare Inc. announced today that it will be releasing the new software application ZConvert at the SLEEP2013 June meeting in Baltimore. It was developed specifically to deal with many of the barriers related to converting a sleep patient referral to a live appointment or procedure. The companies have defined a "patient conversion" as an individual that really shows up for their scheduled appointment. This process involves a number of steps which, until now, have not been fully automated and could not be achieved using a single software application.
Although the companies have defined at least 8 steps to successfully convert a patient, the most frustrating and time consuming elements arise from the insurance coverage and scheduling barriers. Patients placed on the ZConvert waiting list can have their insurance verified in seconds using a verification status window that details coverage including co-pays, deductible, etc. The next step is to tackle the increasingly complex task of study pre-authorizations. Arguably this has become the most frustrating aspect of the conversion process with different forms required to be completed, depending on the patient's insurance policy.
Therefore the decision was made to automate the authorization portion of the cycle by developing a digitization process that can take any insurance pre-authorization form and transform it into an electronic version. This allows the generated e-form to be automatically populated from the information fields imported directly from the SleepScreener application or manually entered and corrected if required.
Any number of pre-authorization forms can be imported into the application and then selected from a list depending on the patient's insurance coverage. Once the form is completed it can be converted back to pdf format and electronically faxed or printed and faxed the traditional manner. This entire process can be monitored with the Pre-auth Status window, allowing the user to track and document all actions taken to obtain the study authorization number.
"We developed ZConvert because there was a need to reduce the workload required to convert individual referrals into patients that actually show up for their appointments," says Michael Clark, VP of Sales and Business Development. "Anyone involved in this process would agree it typically requires too time much time and paperwork so in order to increase productivity we broke it down into a sequential procedure and then automated it by eliminating paper and redundant data entry."
The application also includes a calendar style graphic scheduler making it easy to schedule any type of diagnostic or therapy appointment. Another unique tool is the "Catch Fence" protocol algorithms that address the excuses patients use to non-commit or cancel sleep study appointments. During the cycle, patients and health care providers are automatically updated with email/text notifications. As a final touch, a color coded bar graph scale, called ZLinkz, was added which visually displays where the patient is in the conversion process. The application also generates a number of reports and statistics displaying a variety of patient and facility parameters including the important "Referral to Conversion" graphic.
ZConvert is compatible with the SleepLinkz platform to be introduced at SLEEP2013.
About Signature Sleep Services LLC
Signature Sleep Services (dba Sleep960) is a sleep medicine resource company providing diagnostic & therapy products, consultation & management services and Polysomnography educational courses. Our products focus on improving the complete care workflow cycle from initial screening, testing, treatment and successful outcomes for the sleep disorder patient. A sister company the Florida International Sleep School provides a variety of Polysomnography courses with a blended mix of on-line, on-demand and traditional classroom sessions.