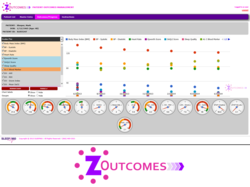 Now health care organizations will be able to assemble patient outcomes information in a much more efficient manner and use it to justify their operation to any insurance payer.
Fort Myers, FL (PRWEB) June 26, 2013
Signature Sleep Services (dba Sleep960) announced today it has released the first version of a web application developed to fill a void in sleep medicine clinical outcomes tracking and reporting. Presently there is no effective way to automatically gather information from key sources in the patient's care cycle. Measuring outcomes is becoming an increasingly important aspect of managing the patient's overall care in order to improve efficiencies and reduce costs. ZOutcomes now becomes the final piece of the companies SleepLinkz platform of sleep related applications, products and services.
As we move towards Accountable Care Organizations in health care, one of the important aspects of this transition will be the requirement to monitor and provide quality patient outcomes. This is significant among the sleep disorder patient as there are a number of steps an individual must go through from the point they are screened until they are eventually treated and monitored for therapy compliance. In the past this typically translates to manually gathering certain parameters from health questionnaires, EMR systems and diagnostic results; then combining that information with therapy metrics captured from a number of compliance monitoring applications.
ZOutcomes has automated much of this process by collecting specific metrics while interfacing directly to applications providing the information. As an example, the first group of parameters is collected from information pulled from practice management programs such as blood pressure, heart rate, A1C blood marker and BMI. The next set of metrics imported are questionnaire results such as sleep quality, Epworth and SAQLI scores from the company's SleepScreener application. Diagnostic markers including AHI, RDI, snore index and Sa02 are collected from individual PSG and HST recording devices and then rounded off with PAP compliance, mask leak and AHI parameters. The user has the option to add their own custom parameters as well as manually enter this information.
Once a baseline of parameters has been established, additional markers can be entered over any timeframe in the care cycle. After each new marker group is added, the application generates an additional change column which displays the difference between the latest entry and the previous marker column. The results are also color coded with green indicating a positive change and red signifying a negative outcome. The last column entry also generates a final overall change column that compares itself to the initial baseline entries. All this information is displayed in a color coded spreadsheet making it easy to see the patient's outcomes throughout the entire care cycle.
"One of the biggest problems sleep diagnostic and treatment centers face is the ability to regularly collect the key parameters required to monitor and track patient outcomes," says Michael Clark, VP of Sales and Business Development. "Since most facilities rely on manually gathering this information we decided to develop an application that automates this process and displays the results in an organized chart format with a variety of graphic plots. Now health care organizations will be able to assemble patient outcomes information in a much more efficient manner and use it to justify their operation to any insurance payer."
ZOutcomes is connected to the SleepLinkz Sleep Medicine Delivery Platform of compatible software applications, medical devices and support services. This consortium of sleep related products and services working together eliminate redundant data entry between applications, resulting in reduced staff, overhead and higher facility revenues. Thus, ZOutcomes has the ability to collect information from disparate systems displaying it in a rich graphic format easy to track and visualize.
About Signature Sleep Services LLC
Signature Sleep Services (dba Sleep960) is a sleep medicine resource company providing diagnostic & therapy products, consultation & management services and Polysomnography educational courses. Our products focus on improving the complete care workflow cycle from initial screening, testing, treatment and successful outcomes for the sleep disorder patient. A sister company the Florida International Sleep School provides a variety of Polysomnography courses with a blended mix of on-line, on-demand and traditional classroom sessions.