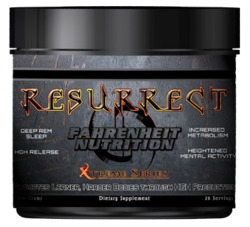 RESURRECT will drive our athletes toward stronger bones, bigger muscles, leaner bodies, more alert minds, better sex, and better sleep.
Hutto, TX (PRWEB) October 20, 2011
Fahrenheit Nutrition CEO, William Mellors, assumed his familiar post on Wednesday to praise the release of RESURRECT, a "clearly superior pro-HGH formula" hitting the shelves this month, nationwide.
In a statement released to select members of the media, Mellors explains, "Our athletes have been calling for a reliable pro-HGH that will also help with mood, rest and recovery. Not only did we answer that call, but we've taken it 10 miles further."
Mellors points to history in the world of bodybuilding, "For decades, pros on the bodybuilding circuit have been pumping their veins full of growth hormone, for the simple reason that it works … it builds massive muscles fast, preserves lean muscle during pre-competition dieting, is unrivaled in aiding recovery, and generally turns back the hands of time."
The challenge in the nutritional supplement industry has been to find non-synthetic and safe formulas to trigger HGH release at sufficient levels - "… sufficient to affect similar gains in the gym," explains Mellors.
RESURRECT, the latest in Fahrenheit Nutrition's world-class line of sports supplements, prepares the body for maximum gains and full muscle recovery, combined with life-balancing, mood-enhancing, uncompromised REM sleep. Every serving of RESURRECT packs 8 GRAMS ( the equivalent in size of 16 extra-strength capsules) with the most potent HGH secretagogues in the industry.
Added to RESURRECT's pro-HGH formula are powerful precursors to the essential neurotransmitters that drive our everyday lives, namely serotonin, epinephrine and norepinephrine. The novel combination of "phenylbut," GABA, dopamine extract, DMAE, n-acetyl tyrosine and 5-HTP has been engineered to effectively cross the blood-brain barrier, distancing itself from current over-the-counter 'mood enhancers'.
Combined, RESURRECT packs a one-two punch that answers the call for a complete pro-HGH / mood enhancer. "In laymen's terms," Mellors adds," RESURRECT will drive our athletes toward stronger bones, bigger muscles, leaner bodies, more alert minds, better sex, and better sleep." *
To learn more about Fahrenheit Nutrition and its line of cutting-edge supplements, visit http://www.fnutrition.com. Consumers are also encouraged to follow Fahrenheit Nutrition on their growing Facebook site @ facebook.com/fnutrition.

These statements have not been evaluated by the Food and Drug Administration. These products are not intended to diagnose, treat, cure or prevent any disease.
About Fahrenheit Nutrition
Fahrenheit Nutrition is an industry leading supplier of high-end nutritional supplements. All products in the Fahrenheit line are manufactured using current Good Manufacturing Practices (cGNP) as defined by the FDA. Fahrenheit Nutrition products are available at retail outlets throughout the United States.
MEDIA CONTACT
Bruce Davis
(512) 846-2649
mediarelations(at)fnutrition(dot)com
###