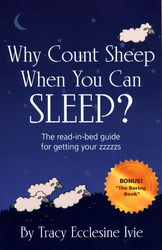 "People can regain that lost hour -- and many more -- once they know how to calm a racing mind," says author Tracy Ecclesine Ivie. "My book is designed to be read in bed, when people are desperately searching for relief."
Clinton, NJ (PRWEB) March 1, 2011
On March 13, Americans will once again lose an hour of sleep, thanks to daylight saving time. But there's no cause for alarm, says Tracy Ecclesine Ivie, author of the new book, "Why Count Sheep When You Can SLEEP?".
"People can regain that hour -- and many more -- once they know how to calm a racing mind," says Ivie, a journalist who's learned countless secrets for overcoming insomnia while married to "the snorer from hell" for 29+ years.
Her book is designed to be read in bed and contains hundreds of effective sleep tips from medical experts and ordinary people around the world. It also includes a chapter called "The Boring Book" to numb the most hyperactive minds.
"About 60 million people in the United States are sleep-deprived, according to the National Institutes of Health," she says. "I wrote this book for them… and myself."
Here are seven tips for a great night's sleep from Ivie's book and workshops. (For more, visit rosestreetpress.com, amazon.com, barnesandnoble.com or call 908-730-0355.)
1) Turn your bedroom into a sleep zone. Your room should be cool -- about 60 to 68 degrees. Pile on the blankets if needed, but don't turn up the heat because it can irritate your nose and throat. Keep your room pitch black and cover or remove any electronic devices, especially alarm clocks with lighted displays.
2) Wind down to the dead zone. No computers, cell phones, arguments or crime shows for at least 30 minutes before bedtime. Instead, take a warm bath with essential oils, do gentle yoga stretches or read a boring book. (The latter inspired Ivie to include a "Boring Book" chapter for a quick fix in bed.) Or listen to a delta sleep tape or the soothing chant, "om mani padme hum" (available on Amazon or iTunes).
3) Make like the Dalai Lama. Let meditation calm your senses. Get as comfortable as possible in bed, breathe slowly and focus on each breath. Listen to the air as it enters your nose, moves down to your stomach (hold for a second) and exits through your mouth. If your mind wanders, keep bringing your attention back to your breath. The next sound you hear will be your alarm going off in the morning.
4) Get silly. Simple mind games -- the sillier the better -- can induce a dreamlike state. Pretend you're Batman, Spider-Woman or Superman flying into a world of vivid colors: Gotham City in hot pink, turquoise cliffs and orange mountains. Hear a gurgling sound that morphs into a tinkling bell and then a harp or ukulele. And instead of counting sheep, try giraffes or pink elephants that bound over Mt. Kilimanjaro.
5) Tap into EFT (emotional freedom techniques). Imagine the benefits of acupuncture without the prickly needles. Anyone can do EFT, which involves simple tapping on acupuncture points. For details, visit eftuniverse.com or thetappingsolution.com.
6) Talk to yourself. ("I am peacefully falling asleep. I feel very calm. I am drifting off to sleep," etc.) Or silently repeat nonsense words ("kadoomba, lenori, jensel"), whatever comes to mind.
7) Journal it. If you're still wound up, try recording your thoughts. Work through your worries by creating positive action steps. Or take a completely different approach: stream-of-consciousness writing that catapults you into another world.
Pleasant dreams…
Tracy Ecclesine Ivie gives "Sleep Tight Tonight" workshops based on her book. For information, visit http://www.rosestreetpress.com or her blog. Or write info(at)rosestreetpress(dot)com or call 908-730-0355. Ivie is also co-author in the book series, "Country Inns of America" (as Tracy Ecclesine.) http://www.wordsandideas.net
# # #