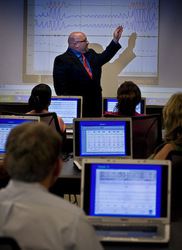 The small group made the course more focused on the individual. At courses with too many people you feel disconnected. At the Atlanta School you feel like someone is tutoring you.
Atlanta, GA (PRWEB) July 22, 2009
Physicians interested in becoming board certified in the growing field of sleep medicine have two years remaining to take advantage of a 5-year "Grandfathering" period where they can potentially bypass a one-year sleep medicine fellowship that will be required of all candidates starting in 2012. Only two more board exams remain in this 5-year period, one in November 2009 and one in Fall 2011.
Following a decision made by several key medical boards in 2006, one path towards taking the sleep board exam has been significantly shortened. Physicians who are board certified in psychiatry, internal medicine, neurology, pediatrics, ENT, or Family Medicine and who meet the requirements of the practice pathway have the opportunity to sit for the exam without a one year sleep medicine fellowship.
For physicians who are taking advantage of this period, The Atlanta School of Sleep Medicine and Technology has developed a unique course offering developed specifically to prepare them for the national sleep board exam to be held on November 19, 2009.
The school's 3-day weekend review course gives physicians a boost in their preparations for the challenging day-long exam in November by reviewing a variety of clinical sleep disorders and sleep sciences as well as other skills tested on the board exam. The instructors mix lectures with case-based presentations and technology to create a unique study experience that gives doctors a solid foundation for preparing the rest of the month. Michael Rinow, MD, who passed the boards in 2007, said, "The Atlanta School's lectures feature sleep experts who are nationally known. The board review course places a great emphasis on mastering clinical parameters of various sleep problems and knowing the International Classification of Sleep Disorders."
Ramamurthy Bangalore, MD, who also used the review course to prepare for the boards said he appreciated the Atlanta School for its smaller class size. "The small group made the course more focused on the individual. At courses with too many people you feel disconnected. At the Atlanta School you feel like someone is tutoring you."
Dr. Bangalore, decided to get board certified after realizing how essential sleep is to the overall health of his patients. "In the past, doctors rarely even asked about their patient's sleep quality, which adds up to one-third of their life! Since studying sleep medicine I am better able to teach patients and help them with their sleep problems."
Edward Sall, MD, who took the Atlanta School's Early Bird Review Course in the spring, said that as a dentist and an ENT, the field of sleep medicine is all around him. "The sleep medicine field is a natural extension of what I already do. There is growing awareness about the importance of sleep and an aging population that both contribute to sleep medicine's growth. The momentum in the field right now combined with sleep's increasing role at my practice has given me a desire to get board certified in sleep medicine."
The review course features the school's founder and director, Russell Rosenberg, Ph. D., ABSM, as one of the lead instructors. Dr. Rosenberg is an experienced board certified sleep specialist and educator. He lectures and teaches internationally on a range of sleep medicine topics. Dr. Rosenberg's expertise includes insomnia and disorders of excessive daytime sleepiness.
In addition to the 3-day board review course, the Atlanta School offers an optional one-day Digital Records Review Course with Terrence Malloy, RPSGT. This precursor to the main course gives physicians an extra day to look at records and hone this skill that will be tested on the November exam.
About The Atlanta School of Sleep Medicine
Since 1992, the Atlanta School of Sleep Medicine & Technology in Atlanta has offered introductory and review courses for more than 5,000 physicians and health care professionals in sleep medicine and polysomnography. Four-day intensive introductory courses are designed for physicians and 80-hour courses, which include an online component, are designed for sleep technologists and allied health care professionals. The Atlanta School also offers special topics including Sleep Medicine for Nurse Practitioners and Physician Assistants, Sleep Medicine for Industry Professionals, and has an Online Learning Center that features a technologist registry preparatory course. For more information about the Atlanta School of Sleep Medicine, please visit the school's web site at http://www.sleepschool.com. Media Contact: Laura Baareman, The Atlanta School of Sleep Medicine and Technology, (770)883-6679.
###