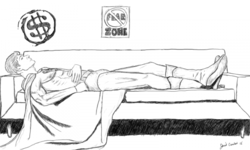 One of the biggest myths is that we need 7 to 9 hours of sleep. But this misses the big question. What type of sleep? It's quality, not quantity
Chicago, Illinois (PRWEB) May 15, 2012
Internet entrepreneur and business consultant, released today the findings of his personal sleep study results, which are available through his site, Cliconomics, and will help thousands enjoy more productive and creative awake times. Croslow's six-month personal study started after he asked himself if the snooze button was killing him. Even despite receiving the recommended eight hours of nightly sleep and engaging countless routines to improve the quality of his sleep, nothing seemed to help him become fully rested and perform to his full potential.
Using some simple software to track his sleep cycles, Croslow spent more than half a year tracking his sleep patterns, finally discovering how to sleep better. Croslow dedicates a recent post on his blog Cliconomics to sleep and and sleeplessness, including research he's conducted on the patterns of sleep, sleep cycles and the science behind them, and sleep's effect on the brain.
"The average person is only getting 25 percent of their sleep in the deep sleep phases," he said. "That means the doctor-recommended sleep times are only giving us two hours of recuperative sleep. Sleeping more doesn't do anything to improve your feelings of sluggishness. Lack of deep sleep is what causes all those nasty sleep deprivation statistics. You are drowsy, unfocused, have headaches, and may find it impossible to concentrate."
So what's the answer to operating at full potential? According to Croslow's research, a person's sleep patterns are largely dictated by their body temperature. To improve sleep, Croslow recommends several keys to success, including taking a 15- to 30-minute nap per day, regulating one's body temperature, getting more sunlight, and improving the room and conditions of the room in which one sleeps, to ensure an optimal rest.
Through his blog, Croslow offers several pieces of important advice for helping people get better sleep to perform to their optimal levels. Some of his guidance includes not allowing light into what he calls the "sleep chamber" and adjusting the thermostat to regulate body temperature. Additionally, a comfortable bed is a must, as is using the designated sleep room for nothing but sleeping. In other words, no distractions, he said.
"I'm like thousands of others in the world, working to grow my business and develop creative solutions to complex problems," he said. "I can't do this effectively without proper sleep and care for myself."
Croslow even identifies several other major world leaders who have, during their lives, followed similar sleep protocols to the one Croslow details on his site.
Additional insight and content for identifying the perfect sleep is available through Croslow's site, Cliconomics.
In addition to business guidance, insight and consulting, Cliconomics (http://www.cliconomics.com) offers site subscribers tools for helping them build and nurture successful businesses online, including book recommendations, blog posts and guidance-based insight.