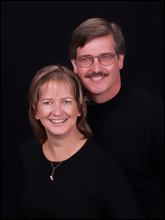 St. Charles, IL (PRWEB) October 17, 2012
Drs. Lynn and Ed Lipskis, highly regarded dentists and sleep apnea specialists, are co-authoring a new business book titled, "Leading the Field: Strategies, Advice & Inspiration From World Class Experts". Drs. Lynn and Ed Lipskis of St. Charles Family Dentistry, strive for continuous improvement at all levels of service. St. Charles Family Dentistry's senior doctors have each completed more than 1600 hours of post graduate continuing education in all phases of dental education. One of the new current aspects of dental education is sleep apnea, in which Drs. Lynn and Ed Lipskis have received over 1500 hours of post doctoral education in this disorder and the treatments for it. This level of expertise reflects their philosophy of lifetime learning and is one of the keys to their success that they will be sharing in this new business book.
Drs. Lynn and Ed Lipskis consider sleep apnea to be a treatment in which both dentists and doctors can work together in order to better a patient's health. The term "sleep disordered breathing" (SDB) refers to a full range of breathing problems that result from an insufficient amount of air that reaches the lungs (i.e., hypopnea and apnea). It is estimated that one-third of the U.S. population suffers from some type of sleep disorder. Approximately 40 million individuals are chronic sufferers, yet less than 10% have been diagnosed or sought treatment. Without proper diagnosis and treatment, the results can be life-threatening - from an increased risk of heart attack, congestive heart failure, cardiovascular disease, stroke, high blood pressure, diabetes and work and driving related accidents. Sleep apnea patients may also suffer with memory impairment, difficulty concentrating and low energy. Obstructive sleep apnea syndrome (OSAS) in children is being increasingly recognized as a cause of attention and behavior problems.
Several types of sleep disorders affect both children and adults but the most prevalent is sleep apnea. Also known as obstructive sleep apnea (OSA), this manifests itself at night when a child or adult is sleeping. As the muscles relax, the tongue and soft palate collapse onto the back of the throat and block the upper airway, causing airflow to stop. When the oxygen level drops low enough, the brain moves out of deep sleep and the sleeper partially awakens. The airway then contracts and opens, causing the obstruction in the throat to clear. The flow of air starts again, usually with a loud gasp. Although this arousal from sleep may only last seconds, the cycle repeats throughout the night, disrupting the sleep pattern and preventing the individual from getting a continuous flow of oxygen and reaching the stage of restful, deep sleep the body needs in order to rest and replenish its strength. It is this combination of low oxygen levels and interrupted, fragmented sleep that contributes to most of the ill effects suffered by the sleep apnea patient.
Drs. Lynn and Ed Lipskis have received over 1500 hours of post doctoral education in the treatment of sleep apnea and TMJ disorders and use their expertise to determine which appliance may provide the best outcome for one's individual situation. They will complete a comprehensive evaluation prior to making an appliance they provide. Their office protocol requires an annual home screening study to make sure that the appliance continues to be effective to help keep a patient in the optimum state of health. These results are forwarded to a patient's attending physician so they are kept up to date on the patient's progress.
Drs. Lynn and Ed Lipskis are excited to be participating with other leading experts and best-selling author Robert Vitelli, to provide readers with useful and practical information about how to succeed in various professions, through this new book.
St. Charles Family Dentistry
Dr. Lynn Lipskis
Doc-L-Lipskis (at) SbcGlobal (dot) net
(630) 377-3131
StCharlesDentist.com
"We Support The H.O.M.E. Foundation"
About The H.O.M.E. Foundation:
The Helping Others Means Everything, or The H.O.M.E. Foundation, is a not-for-profit organization dedicated to helping our Family of Charities. Frankie Verdugo, President of The HOME Foundation, wants to help as many worthy charities as possible as they struggle during these tough economic times. Frankie Verdugo helps raise funds through luxury dream home raffles, home giveaways, prizes, and high profile celebrity events in Hollywood... "Our mission is to help charities reach their fundraising goals and to bring awareness to their praiseworthy causes."