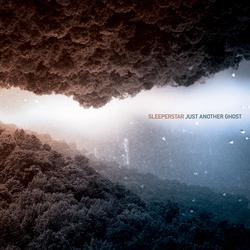 "We didn't realize it at the time, but we started making this record in Stockholm in 2007 with Peer Astrom, then 50,000 miles in the tour van later we finished what I consider to be my greatest musical achievement." - Chris Pearson, lead singer
Dallas, TX (PRWEB) June 23, 2010
Sleeperstar, as seen on stage with such notable bands as Foreigner, Eve 6, Vertical Horizon, and Virgin Record's Green River Ordinance, announces the release of "Just Another Ghost", the highly anticipated follow up to the EP, "To Speak, To Love, To Listen".
"Just Another Ghost" embodies the eclectic nature of Sleeperstars musical influences. Each song is a chapter in the story of a journey marked by Chris Pearson's soaring vocals, Nick Box's tasty guitar riffs, and the melodious piano/effects from keyboardist Jake Lester. It is complimented by Shaun Menary's emotionally charged drum beats and the clean bass lines of Brandon Rosas. The overall sound of the album has been described as "uniquely-familiar." Which may be due to the fact that Sleeperstar was influenced by the unique sounds of Kings of Leon, Radiohead, Paper Route, and indy sensation Manchester Orchestra, as well as, the all too familiar sounds of U2, Coldplay, The Beatles, and Third Eye Blind.
Sleeperstar is set to release "Just Another Ghost" world wide on June 22, 2010 under Duckpin Records, Inc. (owned and operated by Chris Pearson and Jacob Combs) and then through iTunes the following week on June 29, 2010. The CD release show is scheduled for June 25, 2010 at Trees in Deep Ellum, Dallas, TX.
Their first full-length album, "Just Another Ghost", can be found on http://www.sleeperstar.com as well as iTunes and other online music outlets. This 14 song album is available for $10 or $.99 per song.
This band is a blend of Alternative & PopRock featuring a mixture of melodious piano effects, sweeping guitar riffs, soaring vocals and a bold and eclectic rhythm section, which results in a sound that spans a wide spectrum of songs from haunting love ballads to well crafted alternative rock. Clearly holding a deep respect for these bands, Sleeperstar has been compared to: Snow Patrol, Coldplay, U2, and The Fray.
Sleeperstar will begin their national tour this Fall, 2010, that will include critically acclaimed clubs like Jammin Java in Washington DC, and Colleges/Universities across America. As a precursor to the national tour, they will be playing Summerfest in Milwaukee, WI, as a part of a line-up that includes: Gavin DeGraw, Passion Pit, Counting Crows and some of the most popular artists in music today.
"With their raw talent and great music it's no wonder they have such a big fanbase." - esbmusic.com
"Sometimes bands will sacrifice their live shows to make a phenomenal studio recorded album. These guys have both." - theeasttexan.com
# # #