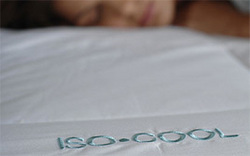 What customers need to create the ultimate sleep environment.
Stafford, TX (Vocus) February 26, 2010
Sleep Better Store, manufacturer and supplier of fully adjustable air mattresses comparable to the Select Comfort® Sleep Number bed, adds IsoCool™ accessories to their lineup of superior sleep systems. IsoCool's cutting-edge contribution to the sleep process champions a technology that is creating excitement among sleep professionals.
Sleep is an important factor for the human body to function correctly. Little or no sleep can affect the full gamut of the human experience, everything from concentration, memory and mood to the human body's natural processes. Proper bodily maintenance necessitates a standard amount of "deep" sleep. IsoCool™ sleep accessories are designed to create the most relaxing environment that is fundamental to optimizing sleep, which in turn increases productivity and establishes a healthier lifestyle.
IsoCool™ uses Outlast® Adaptive Comfort® material designed to equalize the human body's continuously-changing temperature. The Phase Change Material (PCM) beads recognize whether the body's core temperature is too cool or too warm and adapt to assist the regulation of the body's temperature and provide a perfect night's rest.
IsoCool™ accessories utilize the densest concentration of Phase Change Material beads for the best effect, with both maximum functionality and comfort in mind. Both the IsoCool™ Fiber Pillow and the IsoCool™ Mattress Pad use a spiral-spun polyester filling that offers full-body support and is hypoallergenic. The IsoCool™ Contour Memory Foam Pillow is made out of visco-elastic foam that helps alleviate pressure around the neck and head by adjusting to contours that a normal pillow neglects. All three IsoCool™ products feature a 100% cotton, 300-thread count removable cover that is comfortable and easy to maintain.
Research by the Better Sleep Council discovered that 60-65°F is the body's ideal sleeping temperature. CEO of Sleep Better Store, Philip Krim, considers the inclusion of the IsoCool™ Fiber Pillow, Memory Foam Contour Pillow and Mattress Pad to their high quality sleep systems to be, "What customers need to create the ultimate sleep environment."
About Sleep Better Store
Sleep Better Store prides itself on offering consumers the highest quality sleep systems comparable to the Sleep Number bed by Select Comfort® but hundreds of dollars less, a 20-year warranty, low price guarantee, and free shipping both ways, making purchasing a Sleep Better Bed truly risk free. We are so confident customers will be completely satisfied with our adjustable firmness air beds we will refund the purchase and pay for return shipping, if the customer is not completely satisfied.
###