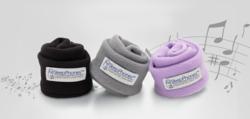 Las Vegas, NV (PRWEB) January 09, 2013
National Technology Expert Scott Steinberg recently took a look from the floor of the Consumer Electronics show of an innovative entry into the booming headphone market called "SleepPhones". SleepPhones are lightweight and washable with a wicking fleece headband that contains thin removable speakers to use while sleeping. The SleepPhones product review is highlighted on the Nationwide News program, NewsWatch.
Invented by a family doctor, SleepPhones are made of Polartec fleece and have super-thin removable headphones that are built into a washable headband. Users can easily fall asleep while wearing them and they can help light sleepers restore good sleep habits. Another benefit is if a consumer has a partner who's a loud snorer, they can help muffle the sound and allow them to get a good night's rest. They also work very well for outdoor sports like skiing and snowboarding.
To get more information or to purchase a pair SleepPhones, head to http://www.Sleepphones.com.
About AcousticSheep, LLC: AcousticSheep, LLC manufactures superior headphones in a patent-pending headband design, with an emphasis on using environmentally-friendly materials and manufacturing processes. AcousticSheep strives to use local resources, stay technologically-savvy, and be socially responsible in reaching their goal of setting the industry and quality standard for the original, innovative headphones.
To follow along with the show and watch as Scott Steinberg unveils the latest from The 2013 Consumer Electronics Show, subscribe to the NewsWatch YouTube Channel, Like the NewsWatch Facebook Page, or follow the NewsWatch Twitter feed.
For more information, head to newswatchtv.com.
NewsWatch is a weekly 30-minute consumer oriented television show that airs on the ION Network Thursday mornings at 5:30am across the nation. NewsWatch regularly features top travel destinations, health tips, technology products, medical breakthroughs and entertainment news on the show. A recent addition to NewsWatch, AppWatch is a weekly segment that provides viewers app reviews and game reviews of the latest and hottest apps and games out on the market for iOS and Android devices. The show airs in 180 markets nationwide as well as all of the top 20 broadcast markets in the country, and is the preferred choice for Satellite Media Tour and Video News Release Distribution.
The Consumer Electronics Association (CEA) is the owner and producer of the International CES. CEA is the preeminent trade association promoting growth in the $186 billion U.S. consumer electronics industry. More than 2,000 companies enjoy the benefits of CEA membership, including legislative advocacy, market research, technical training and education, industry promotion, standards development and the fostering of business and strategic relationships. All profits from CES are reinvested into CEA's industry services. Find CEA online at CE.org and Innovation-Movement.com.