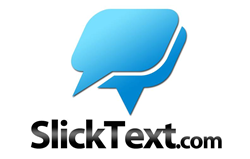 it provides a window into what's going on with other brands and how they're utilizing text marketing
Lakewood, NY (PRWEB) March 25, 2014
Slicktext.com, a major player in the world of text message marketing, has just launched a new text marketing news blog.
Text marketing, many times also know as SMS marketing, is a method of marketing by which business and organizations alike can send mass text messages to a targeted, opt-in audience. Because 98% of text message are read, and most of them within the first 5 minutes, this younger stream is quickly becoming a favorite amongst marketers.
What sets text marketing apart from other streams is that it's strictly opt in. That means that you're only marketing to those who have "opted in" or elected to receive your messages. Because the people that you're marketing to are patrons or enthusiasts, conversion rates on your marketing messages are much higher.
SlickText.com's new text marketing news blog features fresh and up-to-date articles on the text marketing industry, campaign reviews, tips, tricks, and more. CEO Matt Baglia said "This new blog is an excellent addition to our website as it provides a window into what's going on with other brands and how they're utilizing text marketing."
To learn more, or read up on the industry's latest news, you can visit the text marketing blog directly at http://www.SlickText.com/text-marketing-news.